Dumpster Rental in Olive Branch, MS
Dumpster Rolloffs at Prices You Will Not Believe!
Click To Call 1-888-792-7833Click For Email Quote
Easy Dumpster Rental offers the lowest prices in Olive Branch:
There is no reason to stress out when ordering a dumpster for the first time. Our highly trained staff will walk you through the process. And it is unbelievably easy and you will love both our prices and services. We guarantee it.
Super fast rental process and service that will keep you coming back
Easy to use dumpster calculator will put a smile on your face
We can be at your door in less than 24 hours if needed
Construction rolloffs available
Our experienced staff will blow you away
Dumpster Rental Pricing in Olive Branch is Based on Many Factors
To Receive The Lowest Pricing, Call For A Customized Quote Now 1-888-792-7833
Pick up your cell and save up to $50 Now:
We have built our company with two major goals in mind; to provide an outstanding customer experience and to offer the lowest prices in the industry. And we have accomplished both of those objectives. Our promises are not a mirage.
We offer transparency in all we do
The lowest rates in the country. We will match or beat prices
No beating around the bush, we are the number one rental company
Saving you money is our best asset
Free online quotes
Earn Up To $50 | Share / Like Below
10 Yard Dumpster (2 TONS) 4,000LBS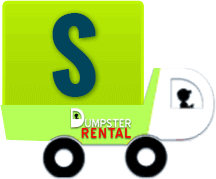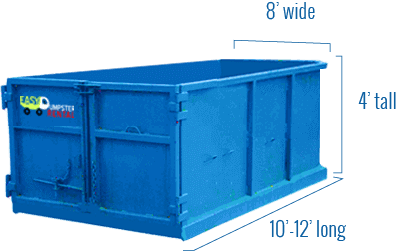 Easy Dumpster Rental
20 Yard Dumpster (3 TONS) 6,000LBS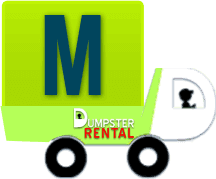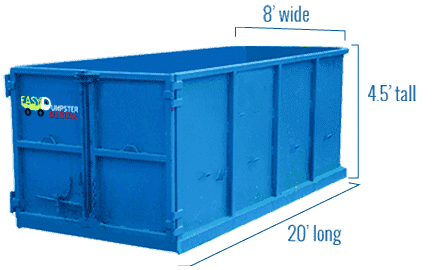 Easy Dumpster Rental
30 Yard Dumpster (4 TONS) 8,000LBS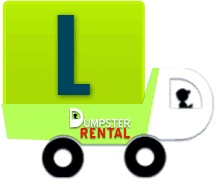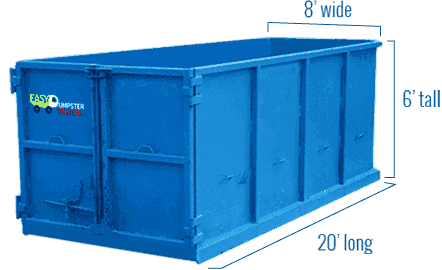 Easy Dumpster Rental
40 Yard Dumpster (5 TONS) 10,000LBS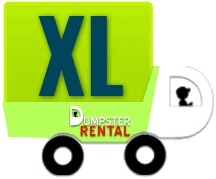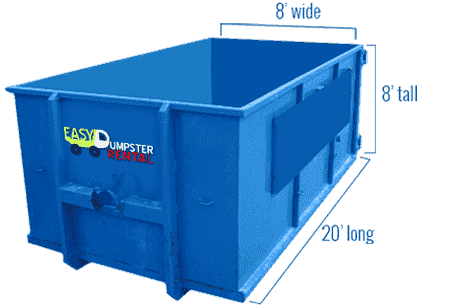 Easy Dumpster Rental
Landfill Location In Olive Branch, MS
Olive Branch is located in DeSoto County. The county does not have its own landfill but there are two Class I Rubbish disposal sites where residents can take garbage. Waste can be taken to the address below:
1) DeSoto County Rubbish Pit
5255 Sandidge Road
Olive Branch, MS (DeSoto County)
(901) 872-7258
Hours of Operation:
Monday to Friday: 7:00 am to 4:30 pm
Saturday: 7:00 am to 2:00 pm
2) Railroad Avenue Disposal
11250 Old Highway 78
Olive Branch, MS (DeSoto County)
(662) 895-7625
Hours of Operation:
Monday to Friday: 7:00 am. – 5:00 pm
Below is a short list of materials that can enter both site:
Tree limbs,
Leaves
Furniture
Tires
Appliances
Wood
Metal
Concrete
Roofing
Materials that cannot be accepted are:
Household garbage
Food containers
Batteries
Recycling
The Environmental Service department in Desoto offers curbside recycling to residents throughout the county. Please contact them at (662) 469-8152 with any questions. There also recycling centers throughout the county where residents can drop-off recyclables four of which are in Olive Branch. These are listed below:
1) Olive Branch High School
9366 E Sandidge Rd
Olive Branch, MS 38654
662-893-3344
Regular Hours
Mon – Fri: 7:00 am – 3:00 pm
Items accepted are: Newspaper, magazine, printing paper, cardboard
2) Olive Branch Intermediate School
8631 Pigeon Roost Rd
Olive Branch, MS 38654
(662) 893-1221
Regular Hours
Monday to Friday: 9:00 am – 2:30 pm
Items accepted are: Newspaper, magazine, printing paper, cardboard
3) Olive Branch Food Pantry
10947 Hwy 178
Olive Branch, MS 38654
(662) 895-2913
Regular Hours
Tuesday: 10:00 am – Noon
Thursday: 6:00 pm – 8:00 pm
Items accepted are: Newspaper, magazine, printing paper, cardboard, aluminum, and metal
4) Olive Branch Maintenance Shop
10414 Hwy 178
Olive Branch, MS 38654
(662) 893-7207
Regular Hours:
Monday to Friday: 7 am to 4:30 pm
Items accepted are: E-Waste
Tire recycling events are also held throughout the year for people in Desoto Count. Contact the environment division 662-469-8152 with any inquiries.
Hazardous Waste
Annual Household Hazardous Waste Day & Tire Recycle events are held throughout the year by the Environmental Services division. Contact the division by calling 662-469-8152 with any questions.
Here is a partial list of items that may be accepted:
Oil based paint
Flea/tick powders
Pool chemicals
Anti-freeze motor oil
Car batteries
Electronics
Yard Waste
Yard waste such as leaves and limbs are collected for free by The Department of Road Management in Desoto County. Leaves should be placed in a bag and limbs should not exceed 4ft. The service is only available for individuals in unincorporated area. People residing within the boundaries of a municipality are asked to contact the city hall at (662) 895-4335 for info regarding yard waste collection.
Bulk Items
Bulk items such as furniture can be dropped off at Desoto County Rubbish Pit or
Railroad Avenue Disposal.
What Factors Should I Be Aware of Before Renting a Dumpster?
There are 5 main concerns or issues you should be familiar with before renting a dumpster.
1) How can I know if your company is trustworthy?
That is not always an easy question to respond too. However, there a few things you might take under consideration. Try to talk neighbors for some advice. Or, if you have some contacts in the construction industry ask around about a company's reputation. But without equivocation, it is almost impossible to stay in business over 15 years and rent over 100,000 dumpsters, if you are a company that doesn't stand behind it's product or has built a reputation of goodwill in the industry. Easy Dumpster Rental has done exactly that. And we are continually growing and not resting on our laurels. Providing the absolutely best customer service is our goal and we live and die by this creed.
2) What are your needs?
When you call and speak to one of sales agents, the job you are planning to do will give some insight in what size rolloff you will need. We have dumpsters in 10, 20, 30, and 40-yards. So no matter what size of a job you are contemplating we have the resources to make sure the task will be completed. If you are just removing dirt or a complete renovation of your estate, we have the right size bin for any job.
3) How much is the rental going to cost me?
That will entirely depend on the size of the bin and the length of the rental period. But rest assured, we will be able to give you just the right size bin by using our weight calculator and a flat rate quote with no hidden fees.
4) Do I need a permit? 
That depends on your city and the placement of the dumpster. On your own property perhaps not. In the street maybe. We will contact your city officials for you and find out the rules governing dumpsters in your city.
5) What should I be concerned about with the delivery of my dumpster?
Make sure there is enough clearance. If it is going on your property (vs the street) and the sales rep will discuss those issues with you. You will also be instructed in how to properly fill the bin. And all you have to do is just inform us the day and time you would like the canister delivered. And when it is filled just give us a call and we will be there to take the bin to the landfill.
That is just about all you need to know to rent a dumpster from Easy Dumpster Rental. We try to make the process as easy as possible. We offer a best price guarantee. We will match or beat any competitors prices. We guarantee that the rolloff will be delivered and picked on the days you requested. The sales team is highly qualified and can answer all your questions and if other questions arise, please don't hesitate to call. We want to make sure that you receive the best possible customer service, even if that means calling back a thousand times. We want you to be completely confident in the decision you are going to be making. Your total experience with our company is the of the utmost importance to us. This is how we have been able to stay in business for over 15 years, pleasing each and ever customer.
It's that easy!
Call Our Team Now
1-888-792-7833