Dumpster Rental in Bethlehem, PA
Get Trash RollOff-Bin Price For Less
Click To Call 1-888-792-7833Click For Email Quote
How We Offer Astonishing Container-Dumpster Service In Bethlehem:
Our strong work ethic is what sets us apart from the rest of the sanitation industry. We still believe in old fashion ethos where words like honesty and integrity still mean something. We will work hard on your behalf.
The best customer service team ever assembled to help you get the results you desire
Guaranteed service with on time delivery and pick up is our promise to you
A sales staff that knows the industry inside and out to better serve you and help you make the right decisions
You can get a quote faster than a hawk dive bombing on unsuspecting prey
We have rented over 100,000 dumpsters with thousands of returning clients every year
Dumpster Rental Pricing in Bethlehem is Based on Many Different Factors
To Receive The Lowest Pricing, Call For A Customized Quote Now 1-888-792-7833
Save With Us Between $10 And $125 On Your Dumpster Rental Cost:
We have worked hard to develop a brand you can trust. With affordable pricing and no hassle service we feel that we can give you everything you need and then some. This is why we are the number one choice for your bin needs.
Low prices that can't be beat. This is not just a slogan but a fact of our ability to deliver
We have dumpsters in a variety of sizes to help you take on any task
Residential dumpsters to help you with backyard cleanups or bathroom remodels
An easy to use dumpster weight calculator that will insure you get the right size rolloff for your situation
If you want to save money then Easy Dumpster Rental is the company to call
Earn Up To $50 | Share / Like Below
Click To Call 1-888-792-7833
Click For Email Quote
10 Yard Dumpster (2 TONS) 4,000LBS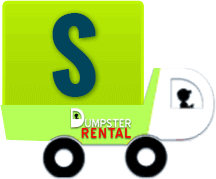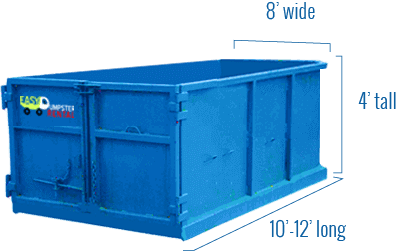 Easy Dumpster Rental
20 Yard Dumpster (3 TONS) 6,000LBS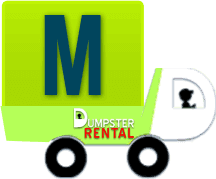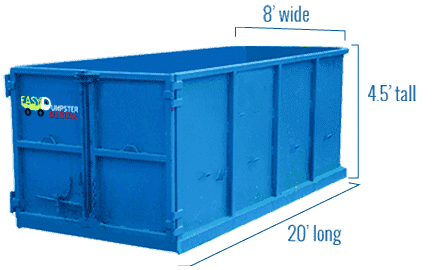 Easy Dumpster Rental
30 Yard Dumpster (4 TONS) 8,000LBS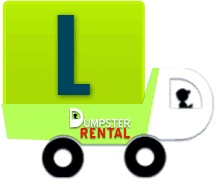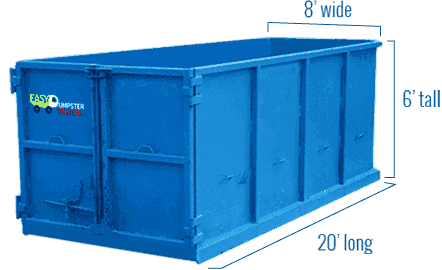 Easy Dumpster Rental
40 Yard Dumpster (5 TONS) 10,000LBS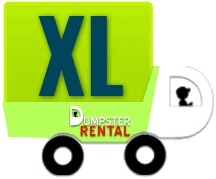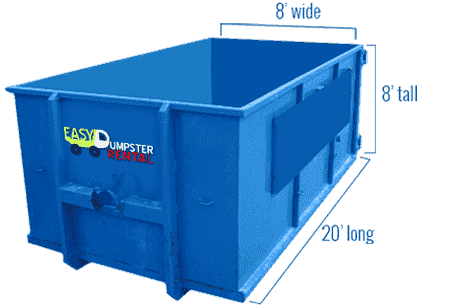 Easy Dumpster Rental
Landfill Location In Bethlehem, PA
Bethlehem is a city in the eastern portion of Pennsylvania in Lehigh and Northampton counties. The location for the Municipal Waste Landfill in the city can be found below:
IESI Bethlehem Landfill
2335 Applebutter Rd.
Bethlehem, PA 18018
610-317-3200
Hours of Operation:
Monday to Friday: 7am to 4pm
Saturday: 7am to 12pm
Sunday: closed
Contact 610 317 3200 for a list of items accepted at the site.
Other Facts About Bethlehem
Bethlehem  was founded in 1741 with a population near 50,000 residents. The city is home to Lehigh University a school with a stellar academic reputation. The great race car driver Michael Andretti and Pulitzer Prize winning author and poet Stephen Vincent Benet are from Bethlehem.
Recycling in Bethlehem, PA
The City of Bethlehem provides residents with weekly recycling services. Residents can obtain a blue or green bin from the Theis/Cornfeld Recycling Center on Illick's Mill Road for a rate of $12 or $10 respectively. Residents are asked to print their address on the recycling bin.
Here is a partial list of items that should be placed inside the bin:
Gift Wrapping Paper
Paper bags
Telephone books
Tin or steel cans
Glass jars & bottles
Magazines & catalogs
Newspapers & inserts
Cardboard
Flatten all boxes
Junk mail
Here is a partial list of items that should NOT be placed inside the bin:
Gift Ribbon and Bows
Light bulbs
Ceramics or dishes
Window glass or mirrors
Garbage
Food waste
Styrofoam
Electronics
Hazardous Waste Disposal
Household items that are toxic, flammable, reactive or corrosive should not be disposed of with regular household garbage. Residents should contact their respective county to learn about the hazardous waste recycling program.
Individuals in Lehigh County should call 610-782-3073 and those living in Northampton County should contact 610-559-3200. County residents can also call 610-865-7082 for a list of businesses that will accept used motor oil.
Household hazardous waste include:
shellac
polyurethane
lacquer thinners
oil or latex
primers
paint reducers
stains
varnish
tints
Yard Waste
In addition to curbside yard waste collection, residents in the City of Bethlehem the City of Bethlehem Yard Waste Facility. The fee for loading is $10.00/cubic yard.
Bethlehem Compost Center
10 East Church Street,
Bethlehem, PA 18018,
Phone: (610) 865 7000
Hours of Operation
Monday – Friday: 9:00 a.m. to 3:00 p.m.
Saturday: 9:00 a.m. to 3:00 p.m.
Sunday: 10:00 a.m. to 2:00 p.m.
Item accepted at the facility include:
Branches
Garden plant residue.
Small brush.
Hedge trimmings.
Leaves
Christmas trees
Items not accepted include:
The Advantages Of Renting A Dumpster Vs. A Pick Up Truck
Let's say for argument sake you don't own a pick up truck and don't know anyone who has one you can borrow. So you are going to have to rent one. The costs of renting a pick up truck, getting insurance and filling the tank is going to put a dent into your savings account or credit card bill. In addition, let's say you are planing on doing a kitchen remodel. That is a sizable job. And because of the lack of space in a pick up truck you are going to have to make numerous trips to a landfill. Most landfills are not going to be located right around the corner, so you are going to have to spend time and money driving back and forth wasting valuable time. Plus, you are to being filling that gas tank up multiple times plus incurring additional cost for tipping fees at the landfill. However, if you make the smart move, you will order a dumpster-bin from Easy Dumpster Rental and you will save considerable time and money and we most likely will only have to make one trip to the landfill.
We offer 4 dumpster-container sizes, 10, 20, 30, and 40 cubic yards. And for a kitchen remodel the best option would be to request a 10-yard bin. The volume for this size bin is equivalent to 4 pick up trucks. So if you have and you will have this much debris to take to the landfill, that is 4 round trips. Who has the time to waste doing this task. All you have to do is place the old kitchen materials into our bin and give us a call when you are ready for a pick up. An ordering form us is a snap. Just tell the sales agent what you want to accomplish and using our easy to use dumpster weight calculator we will have a super low quote and the perfect size dumpster-canister for the job at hand. We guarantee on time delivery and pick up.
We will also advise you on how to load the dumpster-rolloff so you maximize the space and suggest that you go to the local lumber yard and pick up some plywood or planks to put under the wheels of the bin to protect your lawn or driveway. But the best spot to place your dumpster-can is in the street. But first check with your local city officials to make sure that this permissible and ask them about permits.
Using a dumpster-container is going to be a lot more efficient and less expensive than using a pick up truck and it will make life a lot simpler for you. So give us a call and discover why thousands of repeat customers call on us every year to solve their trash hauling problems. You will be ecstatic that you did.
It's that easy!
Call Our Team Now
1-888-792-7833