Dumpster Rental in Newport, RI
Outstanding Roll-Off Rental Prices
Click To Call 1-888-792-7833Click For Email Quote
Renting From Us Will Save You Time In Newport:
Time is a commodity that most of us have little of. And we realize this at Easy Dumpster Rental and respect the fact that we all have very busy lifestyles. That is why if you rent from us we will not waste your time.
Get a quote in 2 minutes or less
We delivery on time. No waiting all day for a drop off
Save time by requesting a container pick up online
Quick and smooth ordering process
Same day service available in Newport
Dumpster Rental Pricing in Newport is Based on Many Different Factors
To Receive The Lowest Pricing, Call For A Customized Quote Now 1-888-792-7833
Save With Us Between $10 And $120 On Your Dumpster Rental Cost:
If you desire to save money then your only option is to rent a canister from us. We have the lowest prices on bin rentals in all of Rhode Island. We will match or beat any competitors prices.
Flat rate prices to ensure no added fees
Over 15 years experience gives us an edge on costs
A simple to use rolloff weight calculator
No hidden fees that will will put you in a sour mood
Call us now! And realize huge savings on your next container rental
Earn Up To $50 | Share / Like Below
Click To Call 1-888-792-7833
Click For Email Quote
10 Yard Dumpster (2 TONS) 4,000LBS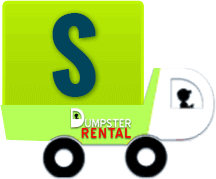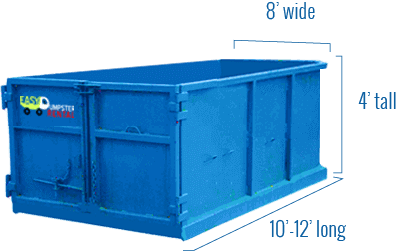 Easy Dumpster Rental
20 Yard Dumpster (3 TONS) 6,000LBS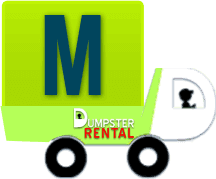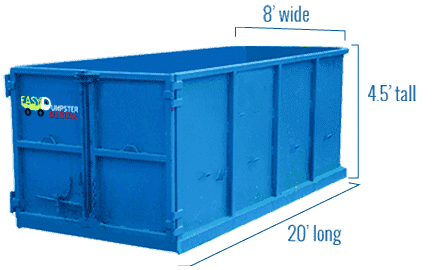 Easy Dumpster Rental
30 Yard Dumpster (4 TONS) 8,000LBS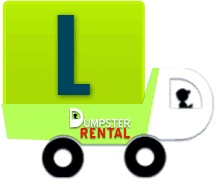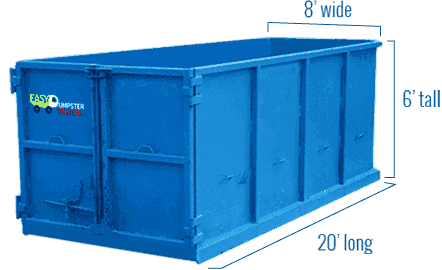 Easy Dumpster Rental
40 Yard Dumpster (5 TONS) 10,000LBS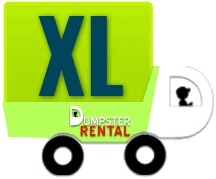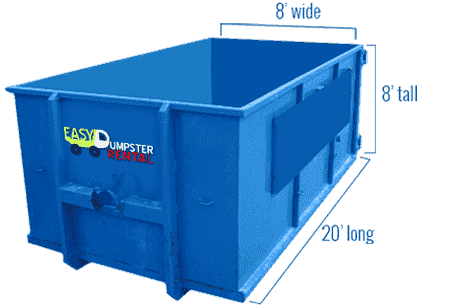 Easy Dumpster Rental
Landfill Location In Newport, RI
Newport is a seaside city situated on Aquidneck Island in Newport County, Rhode Island. The town Public Works department does not provide residents with garbage removal. Residents can use the Rose Hill Regional Transfer Station to dispose of waste or contact a private contractor. See below for information on the location of the Transfer Station.
Rose Hill Regional Transfer Station
163 Rose Hill Rd.
Wakefield, RI 02879
Phone: 401-789-9331
For more information please call (401)848-5450
Hours
Monday-Saturday: 7:30am-3:30pm
Recycling in In Newport, RI
Recyclables can be placed in designated recycling carts for collection day.  Carts should be by the curb as early as 7 pm the night before collection day. Additionally, the Clean City Program provides Newport residents with recycling disposal services. The Clean City Program Office situated at 80 Halsey Street will collect recyclables from residents. Specifically cardboard, books, clothing, textiles, and scrap metal. The office is open Monday to Friday, 8:30 a.m. to 4:00 p.m. Click here for a useful guide on how to dispose of electronic waste.
Accepted items include:
Office paper
Glass bottles
Steel cans
Plastic bottles
Newspaper
Magazines
Prohibited items are:
Plastic bags
hanging files
straws
gum
light bulbs
plastic binders
electronics
Hazardous Waste Disposal In Newport, RI
Eco-Depot Collection events for Household Hazardous Waste is organized by the Rhode Island Resource Recovery Corporation  (RIRRC) to provide Newport residents with proper disposal of Household Hazardous Waste. Residents can visit the website for information on upcoming events and to make an appointment.
Here is a partial list of HHW items that are accepted under the program:
Herbicides
Insecticides
Bleach
Tub, Tile, Shower Cleaners
Home Heating Oil
Pool Chemicals
Oven Cleaners
Kerosene
Moth Repellants
Cockroach Poisons
Household Insecticides
Flea Repellants
Yard Waste Collection In Newport, RI
Yard waste is collected by a separate truck on regular garbage collection days. Residents can use biodegradable bags for disposing of leaves. Branches should be placed in bundles 3 feet long and 4 inches in diameter. There is a 20 bag weekly limit for each household. Click here for more information.
Bulk Waste Pickup
Prepaid bulk waste collection stickers are available at City Hall, 43 Broadway, at the Clean City Program office at 80 Halsey St. Items that are marked with stickers will be collected at the curb by the town hauler. Stickers are $15, payable by check or cash. Items that generally require stickers include furniture, appliances, and mattresses. Click here for more information.
Interesting Facts About Newport
Newport was founded in 1639 and is one of the most charming cities in America. At one time it was the summer home of most of the wealthy families in the country including the Vanderbilt's and the Astor's. Some of the most lavish mansions in the world are found in Newport. The city also boasts having one the highest concentrations of colonial homes in the Newport Historical District. It is also known for being the sailing capital of the world and there is no shortage of boats in this seafaring town. Some notable people who have lived in the city reads like a who's who of American high society. Jackie Kennedy, Doris Duke, and John Nicholas Brown, to name a few, had summer "cottages."
The Versatile Dumpster And It's Many Uses
The all-purpose canister can handle many types of projects. From simple residential yard clean ups to huge construction projects. The bin can also be helpful with your recycling needs. Some of the jobs a rolloff can tackle include:
Hauling away trash after you just cleaned out your garage
Removing tiles from your property after a re-roofing job
Taking away cabinets from a kitchen remodeling project
Transferring materials after doing a hotel tear down
We have bins in a variety of sizes that can help you make life easier for you. Instead of renting a large pick up truck, let us save you that hassle and extra expense by renting one of our dumpsters. Dumpsters are sturdy and we can make one trip to the landfill for you instead of making multiple trips with a pick up truck. Why waste time and money with a truck rental when we can save you both by using our services. Call us and see how simple and economical it is to rent a bin from us.
Getting Your Site Ready For the Container Delivery
After you have decided on using Easy Dumpster Rental for you waste removal you may have some questions concerning site preparation. Depending on the type of job you are doing our sales team will work with and make suggestions on the best place to place your canister. You basically have 3 options:
On the lawn
Your driveway
In the street
If the dumpster is going to be placed on either your lawn or driveway the sales agent will suggest that you go to your local lumber store and buy some plywood or planks. These will be us to place under the wheels of the bin to support the weight of the container so no damage will be inflicted on your property. But the ideal place is to put the rolloff in the street. But before you pick this option to make sure you call your local city officials to see if this is permissible and to discover if need any permits.
Please tell us of any possible obstruction such as trees limbs or low hanging power lines that may impede where you would like the bin to be placed. Our sales team member will also give you instructions on how to best maximize the volume and how to load the container so there is no debris sticking out from the bin or going over the top edge of the canister.
It is against the law for the hauler to travel our city streets with anything protruding either above or hanging out from the sides of the roll-off. After you have completed the job and are ready for a pick up you have 2 options:
You can call the office to schedule a pick up day
Request a pick up online
Either way, we guarantee our services and are everyday low prices. Give us a call right now and get that garage or basement finally cleared out.
It's that easy!
Call Our Team Now
1-888-792-7833