Dumpster Rental in Franklin, Tennessee
Super Savings on Rolloff Bin Rentals!
Click To Call 1-888-792-7833Click For Email Quote
Why our Dumpster Rental Service is unsurpassed in the industry in Franklin:
We put a high premium on customer satisfaction and we prove it with a number of repeat customers. We have clients who know that they can count us to be there we needed and to get the job done on time.
Highly trained professionals sales team who know and love their garbage
We can help you with your recycling needs and help you save precious time
A great selection of roll off dumpsters sizes to meet any circumstances
Get a quick quote that will save you both time and money
On time delivery and pick up guaranteed
Dumpster Rental Pricing in Franklin is Based on Many Different Factors
To Receive The Lowest Pricing, Call For A Customized Quote Now 1-888-792-7833
Save With Us Right Now Up To $50 On Your Dumpster Rental Cost:
Franklin residents will be amazed by how inexpensive it is to rent a dumpster from Easy Dumpster Rental. We offer the best rates and outstanding service to all of our clients. If you are tired of paying high prices, then call us.
Pricing that you can trust with our flat rate pricing model and no hidden fees
No high sales pressure tactics. We will not attempt to rent you a bin you do not need
Easy to use dumpster calculator which helps you pick the right size roll off
We are the duty experts in the dumpster arena. Over 15 years in the rental business
Don't wait any longer, call us now and start to enjoy the benefits of saving your hard earned money
Earn Up To $50 | Share / Like Below
10 Yard Dumpster (2 TONS) 4,000LBS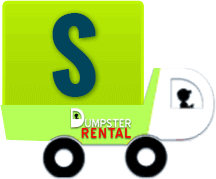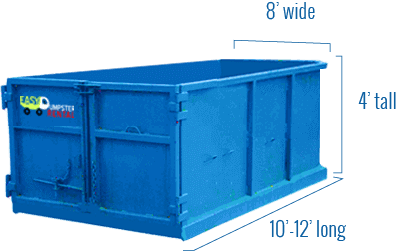 Easy Dumpster Rental
20 Yard Dumpster (3 TONS) 6,000LBS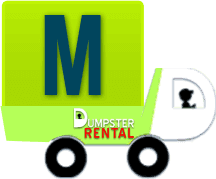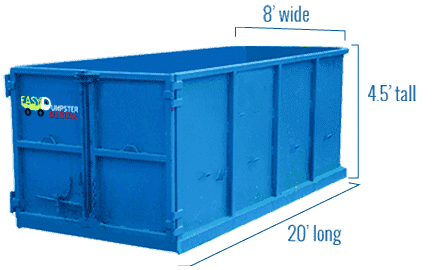 Easy Dumpster Rental
30 Yard Dumpster (4 TONS) 8,000LBS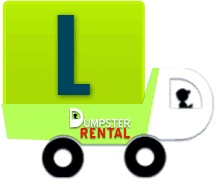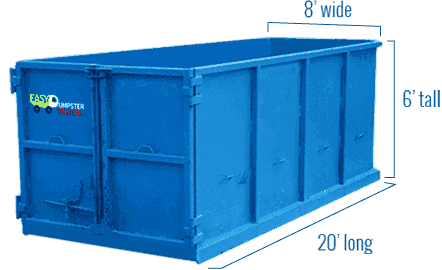 Easy Dumpster Rental
40 Yard Dumpster (5 TONS) 10,000LBS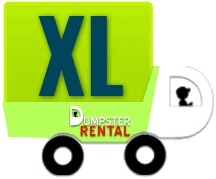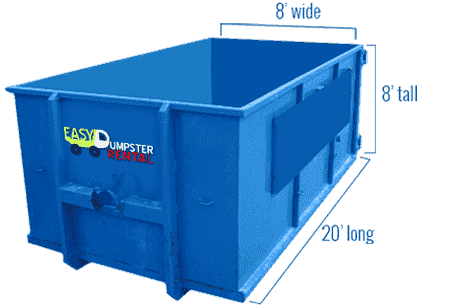 Easy Dumpster Rental
Landfill Location in Franklin, TN
Franklin city is located in Williamson County. The county's landfill is within city borders at the location below:
5750 Pinewood Rd
Franklin, TN 37064
(615) 790-0742
Hours of Operation
Monday – Saturday: 7:00 am -3:30 pm
Sunday: Closed
Here's a partial list of items approved:
Tires
Anti-freeze
Motor oil
Paint
Automotive batteries
Recycling
Franklin City offers blue bag curbside recycling to residents. Residents are asked to place recalls in blue transparent bags after cleaning them thoroughly. Bags should be placed curbside on your scheduled collection day. The blue recyclable bags can be purchased at many local retailers and are typically found in the trash bag aisle.
Please watch this video on how to place recyclables in bags.
Items that can be placed in bags include:
Plastic bottles
Soda cans
Magazines
Glass bottles (clear, green, brown)
Business is asked to contact the city to lease cardboard recycling dumpster boxes.
Hazardous Waste Material
Household Hazardous Waste Day events are organized by Keep Williamson Beautiful. You can contact the office at (615) 790-5848 or visit the website here for information on upcoming events.
Here is a partial list of items that are usually collected at the event:
Paint
Batteries
Oil
Antifreeze
Electronics
The Williamson County Landfill also accepts the items listed above year round. Please call the landfill office at (615) 790-0742 for more information.
Yard Waste
Yard waste should be placed in biodegradable bags for collection arranged by the Sanitation and Environmental Services Department. Their bags are sold at retailers throughout the city, so under no circumstances should residents use plastic bags. Keep in mind that bags containing yard waste should not exceed 25 pounds.
Bulk Waste
Curbside collection is offered for bulk waste including furniture, mattresses, and appliances. All items should be placed outside along the curb by 7 am on the regular garbage collection day. Please be advised that this service does not include motorized equipment unless it has been drained of fluids.
Contact the Sanitation and Environmental Services office at (615) 794-1516 to schedule a pickup.
Steps you can take to get to Zero Waste
No one like wasting anything. Though we must admit we do probably enjoy wasting time through all the possibilities offered to us on our smart phones. But when it comes to garbage it is possible to get to the point where we are not wasting anything. Which seems like an impossibility but it is doable. However, it does take some planning and research but the concept of zero waste is a noble and achievable goal. Anything we can do to reduce or completely eliminate waste is a great idea for protecting and sustaining our Eco-systems. There are basically 5 steps you can take to greatly lessen the amount of garbage we take to the landfills each year. Theses steps are; Reduce, Recycle, Reuse, Refuse, and Compost or let it Rot.
Reduce: If most people would take a hard look at their closets I'm sure they would discover that they have articles of clothing and shoes that haven't worn in years. And these items can be put to use by people who are less fortunate and will greatly appreciate getting clothes and shoes either at a thrift shop or making a charitable gift to an organization that will distribute these second-hand clothes to needy people. And the amount of homeless and those sinking below the poverty lines is getting larger every day. Americans throw away tons of uneaten food every day. So you could either reduce the amount of food you buy or donate any extra food to soup kitchens. They have plenty of mouths to feed.
Reuse: There are many ways you can reuse or re-purpose items around the house. You can start by taking a cloth bag with you grocery shopping and stop using plastics. Plastics are a huge problem if not recycled properly. You can use old newspaper for packing. Small jars can be used in the garage to store nails and screws. There a ton of web sites that will give a lot of good ideas on how to reuse every type of item around the house.
Refuse: Go to your local post office and demand that you do not want to receive junk mail anymore. Everybody gets it, hardly ever looks at it, and it ends up in the trash can which causes more waste and a loss of valuable resources, like trees.
Recycle: Recycling has become quite effortless today. Most city hall websites will instruct you how and what to recycle. Almost all cities offer recycling bins. And more and more municipalities are offering Single Stream Recycling which simplifies the process of recycling to the point that you don't even have to sort recyclables. It's pretty easy to do and really helps the environment.
Rot: Composting is a great idea for the garden. You can take old egg shells, tea bags, dryer lint and place them in into a compost bin. These items will break down and will be great fertilizers for your garden. And they will not be going to the landfill where we have too much waste.
Though it doesn't seem like much if everyone would begin to think and act upon the concept of zero waste, it can be realized. The benefits will be immeasurable and we will have a cleaner, healthier environment. And that is the goal.
It's that easy!
Call Our Team Now
1-888-792-7833