Dumpster Rental in Trenton, NJ
Get Giant Savings On Rolloff-Canister Rental
Click To Call 1-888-792-7833Click For Email Quote
How We Can Give You Awesome Service In Trenton:
When you go searching for a company to help you with a service, you want a business that will stand behind their commitments. Easy Dumpster Rental will not only back up their service pledge but will guarantee it.
We have 15 years of providing customer service that will exceed all of your expectations
Sales reps who have the knowledge and insight to get you exactly what you need
On time dumpster delivery and pick up on your terms not ours
Rolloffs in a variety of sizes from 10 cubic yards to 40 cubic yards
Read the stories of our happy customers who truly love our service
Dumpster Rental Pricing in Trenton is Based on Many Different Factors
To Receive The Lowest Pricing, Call For A Customized Quote Now 1-888-792-7833
Save With Us Between $10 And $70 On Your Container Rental Cost:
Our prices will make you smile. We offer the lowest and most competitive cost structure in the industry. No one can beat our everyday low prices and the respect you will receive from our customer service team.
Get a canister quote faster than Usain Bolt running the 100 meters dash
All of our fees are made upfront with transparency akin to a clear pane of glass
An easy to use canister weight calculator to insure accurate costs
We want you to keep your money not aimlessly throw it away
Call us ASAP and discover how much money you can save by working with us
Earn Up To $50 | Share / Like Below
Click To Call 1-888-792-7833
Click For Email Quote
10 Yard Dumpster (2 TONS) 4,000LBS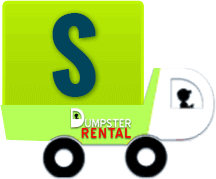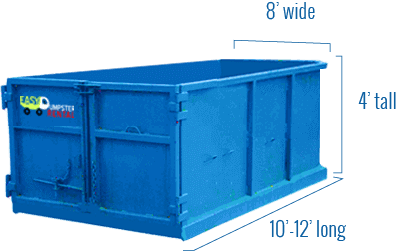 Easy Dumpster Rental
20 Yard Dumpster (3 TONS) 6,000LBS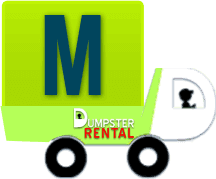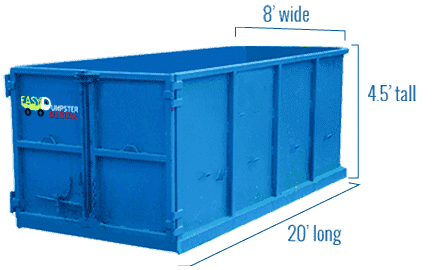 Easy Dumpster Rental
30 Yard Dumpster (4 TONS) 8,000LBS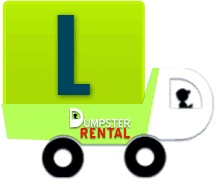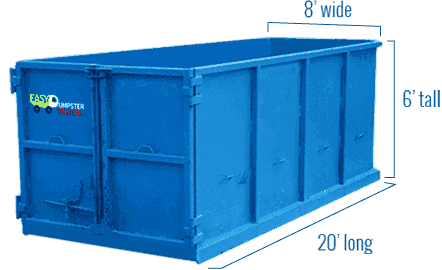 Easy Dumpster Rental
40 Yard Dumpster (5 TONS) 10,000LBS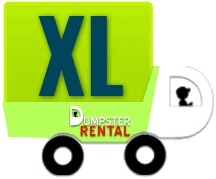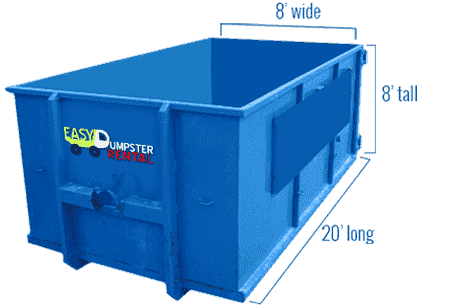 Easy Dumpster Rental
Landfill Location In Trenton, NJ
Trenton is the county seat of Mercer County. As the capital town of New Jersey, the city provides residents with the appropriate means to dispose of household waste. Aside from regular curbside garbage collection, residents can utilize the Transfer Station in Mercer county to dispose of waste items. All individuals interested in using the Transfer Station with waste exceeding 9,000 lbs. must be registered with the New Jersey Department of Environmental Protection. Those who fall into this category will need to present a valid NJ DEP card in order to use the station.
MCIA transfer station
1609 N Olden Ave Ext
Ewing, NJ 08638
Phone 604-434-0781 for information on items accepted at the Transfer Station and hours of operation.
Go here for information on disposal rates.
Recycling in In Trenton, NJ
The city of Trenton NJ offers single stream recycling to its residents in an effort to reduce amount of collection vehicles frequenting the city. This allow residents to place all acceptable recyclables into the same container for collection. The recycling schedule for Trenton can be access on the website.
Below is a list of items that should be recycled:
Office Paper
Telephone Books
Envelopes
Corrugated Cardboard
"Soft" Cover Books
Mixed Paper
Hard Cover Books without covers
Glass Jars
Plastics with #1 or #2 Symbols
Milk Jugs
Glass Bottles (all colors)
Aluminum
Hair Detergent Containers
Juice Boxes
Below is a list of items that should not be recycled:
Pizza Box
Aluminum Foil
Plastic Bag
Light Bulbs
Carbon & Waxed Paper
Ceramics & Pottery
Aerosol Cans
Broken Window Glass
Plastics with #3 – #7 Symbols
Motor Oil Containers
Paper Plates
Clothes Hangers
Bandage Tins
Tissue Paper
Napkins
Styrofoam
Download a complete list of materials to recycle here.
Hazardous Waste Disposal
The county of Mercer organizes three Household Hazardous Waste and Electronic Waste Events annually for residents to rid their home of potentially toxic, corrosive and or explosive waste items.  Events are typically held at the Dempster Fire School in Lawrence Township.
Dempster Fire Training Center
350 Lawrence Station Road
Lawrenceville NJ 08648
Phone: (609)799-3245
Items that are accepted under the program include:
Oils
Medications
Antifreeze
Batteries
Aerosols
Items not accepted include:
Explosives
Radioactive Materials
Latex Paint
Medical Waste
Visit the website for information on upcoming events.
In addition, the county host two additional events dedicated to electronic waste at the County Administration Building at 640 South Broad Street in Trenton.  Items accepted at these events include televisions, printers and computers.
Bulk Item Pickup
The Division of Solid Waste Management provides residents in Trenton, NJ, with curbside collection of bulky waste items. For addition information phone (609) 989-3175, Monday through Friday, 7:30a.m. – 3:30p.m.
Other Interesting Facts About Trenton, NJ
Trenton was first visited by the Quakers in 1679 and is the home of George Washington's first victory in The Revolutionary War. In 1790 Trenton became the capital of New Jersey and has a current population of 84,000 residents. The state of New Jersey is the largest employer in Trenton with 20,000 people working for the government. Thomas Edison State University and Mercer County Community College serve the area for higher education pursuits. The Supreme Court Associate Justice Samuel Alito was born in Trenton and coincidental, so was the late Supreme Court Associate Justice, the brilliant Antonin Scalia.
Don't Be Fooled. Choose A Dumpster Rental Company That Knows Their Business
Caveat emptor. Let the buyer beware. There are a lot of sanitation companies in our industry. Which gives the buyer plenty of options to choose from. But do your homework. Just don't pick the first company you come across without doing some research first. Many companies are fly-by-night operations, here today, gone tomorrow. Just because a company brags they have the lowest prices doesn't mean anything if they don't have great customer service. Or, they tell you there are going to show up a certain day and its a constant battle to get your rolloff delivered. Find a company with a lengthy business record.
A company like Easy Dumpster Rental. We have been in the industry for over 15 years and have rented over 100,000 rolloffs. We have been around along time and have a loyal client base. Literally thousands of customers return to us each year for their dumpster rental projects. And just don't take our word for it, read the testimonials of our grateful customers. And remember that old adage, "You get what you pay for." So go with the company with the experience, a stellar reputation, great customer service, and the lowest prices in the industry. Below, we have put together some questions you should ask a potential bin service provider and if you don't get the answers you want, then hang up the phone and call us.
How long has the company been in business?
How much training does the staff have?
Do they have instant answers to your questions or are they hesitant and begin to steer the conversation in another direction?
What kind of reputation does the company have? Read their testimonials from prior users. Ask a neighbor if they have used a particular company before
Is the company dependable? Do they offer any guarantees
Does the quote you receive seem fair? Are they going to add surprise charges add the end of the rental period? Or, like Easy Dumpster Rental, utilizes a flat rate pricing model
Call other companies to see what they are charging
These are important questions and they need to be asked and answered to your satisfaction before you get with a rolloff rental company that is going to be a big headache. Easy Dumpster Rental has been in business for over 15 years. Prior to this, the Founder and CEO had 10 years experience working for one of the largest sanitation companies in the U.S. It goes without saying, our Boss knows this industry.
All of our sales staff has prior work experience in the industry before working for us. And this is a must before receiving a job offer. Our reputation is golden. Just ask around the industry to confirm this. We rent containers to both the residential market and construction industry.
Easy Dumpster Rental guarantees the following; on time delivery, on time pick up, the lowest prices you can find. We match or will beat any competitors costs. We are so absolutely confident of this, that we encourage future customers to shop around. In addition, we can have an accurate quote in minutes, with the perfect size dumpster to fit your needs, by using our easy to use dumpster weight calculator. We have a variety of canister sizes that can take on any size job. From a small bathroom remodeling job or to the largest office demolition project.
And it is so EASY to use our services. Just give us a call, tell the sales rep a little about your project, get a quote, and then all you have to do is tell us when you would like your bin delivered. And when the rolloff is filled, you can either call us or go online to request a pick up. And if you would like you can even get a quote online. So give us a go and never settle for inferior service again.
It's that easy!
Call Our Team Now
1-888-792-7833