Dumpster Rental in Rome, NY
Get Gigantic Roll Off Savings Today
Click To Call 1-888-792-7833Click For Email Quote
Why Rent a Roll off From Easy Dumpster Rental In Rome:
We offer the best service and have the most knowledgeable trained staff in the industry. Our experience guarantees you first-rate customer service each and every time you rent a bin from us.
We have dumpster sizes for any size project that you can think of
You will never have to wait on us for a delivery or pick up. We work on your schedule
Get a speedy rolloff quote that wont break the bank in mere minutes. Online or over the phone
We have over 15 years experience in the dumpster rental industry
You can have a bin on your site in 24 hours. Call for details
Dumpster Rental Pricing in Rome is Based on Many Different Factors
To Receive The Lowest Pricing, Call For A Customized Quote Now 1-888-792-7833
Save With Us Between $10 And $90 On Your Dumpster Rental Cost:
If rock bottom prices are important to you combined with a work ethic that demands perfection, then we are the company you should be doing business with. We have a nonsense approach and have thousands of repeat clients.
Our container rental prices are unbeatable like a perfect game of baseball and guaranteed
No hidden fees. You will know exactly what you are paying for
We have a simple to use dumpster weight calculator to insure you are getting a fair quote
Don't be hoodwinked by other companies. Integrity is our modus operandi from day one
Call us ASAP and get the best service with lowest prices in Rome
Earn Up To $50 | Share / Like Below
10 Yard Dumpster (2 TONS) 4,000LBS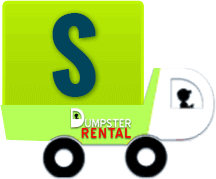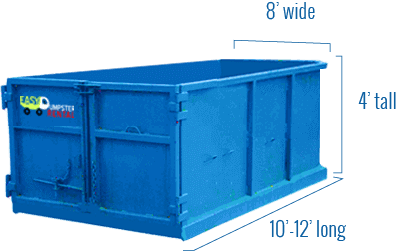 Easy Dumpster Rental
20 Yard Dumpster (3 TONS) 6,000LBS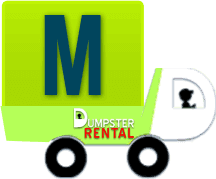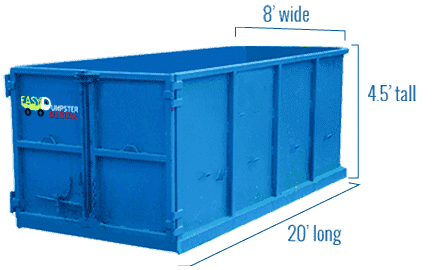 Easy Dumpster Rental
30 Yard Dumpster (4 TONS) 8,000LBS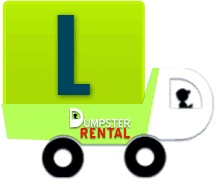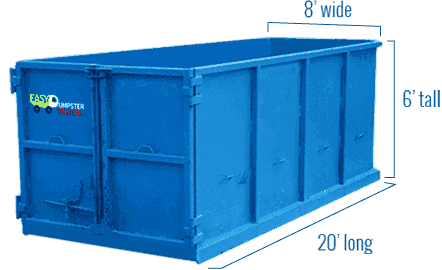 Easy Dumpster Rental
40 Yard Dumpster (5 TONS) 10,000LBS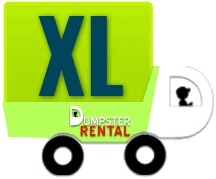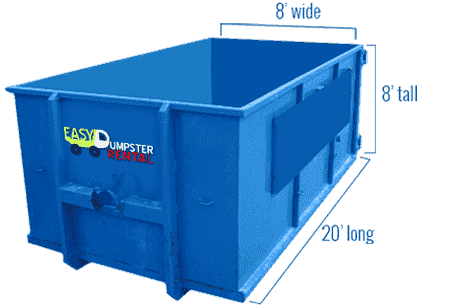 Easy Dumpster Rental
Landfill Location In Rome, NY
Rome is a city in the State of New York that can be found in Oneida County. The county operates a regional landfill in the town of Boonville and a transfer station in Utica. Both the transfer station and the regional landfill will accept waste from all residents in Oneida. Once received, the waste is sorted and contained using state-of-the-art landfill liner. Location and contact information for the landfill and transfer station are listed below.
7044 State Route 294
Boonville, NY 13309
(315) 942-5890
Hours of Operation
Monday to Friday: 7:00 am to 3:30pm
Saturday: By appointment is necessary
Sunday: Closed
Call (315) 942-5890 for information on items accepted at the landfill or visit the website to see a video of the Regional Landfill.
80 Leland Ave. Extension
Utica, NY 13502
(315) 733-1224
Hours of Operation
Monday to Friday: 8:00 am to 4:00pm
Saturday: 7:00 am to 2:00pm
Sunday: Closed
Contact (315) 733-1224 for items accepted at the transfer station or visit the website for the Fee Schedule.
Few Other Facts About Rome, NY
Rome was incorporated in 1870 but the city has had a presence since the late 18th century. With a population of around 30,000 residents, the city is home to the first cheese factory in America. The Eastern Air Defense Sector in located here. And so is the famous Rome Laboratory, which has developed many of The Untied States Air Force's major technologies including radio communications. Francis Bellamy who authored the "Pledge of Allegiance," is from Rome and so is the writer Alex Haley, who penned the epic "Roots." And perhaps one of the greatest rock concerts in American culture was held here, Woodstock.
Recycling in Rome, NY
The city of Rome provides its residents with a reliable recycling program. Single family residences and businesses within the refuse district are provided with a recycling container in which recyclables are to be placed. Plastic, glass, paper, metal and other recyclables can be mixed together loosely in the recycling cart. Each cart or container is branded with a RFID tag that is registered to individual household addresses. A recycling brochure can be downloaded from the city's website.
Here is a shortlist of items that can be placed in recycling bins:
Clear, green and brown glass bottles

Aluminum,

Soda tins and cans

Plastic mark #1 – #7
Here is a shortlist of items that should not be placed in recycling bins:
Window glass

Aluminum foil

Light bulbs

Paint cans.

Aerosol cans

Drinking glasses
Click here for a more detailed list of materials that can be recycled. Accepted items can also be delivered to the recycling center in Utica.
80 Leland Ave. Extension
Utica, NY 13502
Commercial Hours of Operation:
Monday to Friday: 5:00 am – 4:00 pm
Saturday: Closed
Sunday: Closed
Hazardous Waste Disposal in Rome, NY
Residents in Rome can deliver Household Hazardous Waste to the Household Hazardous Waste Management Facility in Utica. Each household can drop off 14 wet gallons and/or 20 dry pounds of waste on each visit to the facility. Visit the website for the Household Hazardous Waste Brochure.
Household Hazardous Waste Management Facility
80 Leland Ave. Extension
Utica, NY 13502
315-733-1224
Hours of Operation
Monday to Friday: 8:00 am to 4:00 pm
Saturday: 7:00 am – 2:00 pm
The following are some of the accepted HHW items under the program:
Herbicides

Insecticides

Bleach

Tub, Tile, Shower Cleaners

Home Heating Oil

Pool Chemicals

Oven Cleaners

Kerosene

Moth Repellants

Cockroach Poisons

Household Insecticides

Flea Repellants
Please be advised that chemicals such as pesticides, paints, oven cleaner, etc. will only be collected during the period of April to September.
Bulk Waste Collection in Rome, NY
Residents in Rome can deliver bulk items, such as appliances that cannot fit in the provided garbage container, to the city's Residential Convenience Station. A Valid ID will be required in order to use the station.
Residential Convenience Station
575 Perimeter Rd.
Rome, NY 13441
(315) 733-1224
Hours of Operation
Monday to Friday: 8:00 am – 4:00 pm
Saturday: 8:00 am – 12:00 pm
Sunday: Closed
Yard Waste Collection in Rome, NY
The city of Rome provides residents with curbside collection of yard waste. Yard Waste includes grasses, leaves, twigs and green household waste. All waste can be placed in the 33-gallon plastic or metal lidded container. Containers should be placed at the curb for collection during the months of April to October.
Our Rental Costs Are Not Made In A Vacuum
We think it is absolutely essential that every customer understands our flat rate pricing model. We feel that by being transparent we can open up a line of trust and goodwill with our customers. And we feel that this approach is working. We have been in the dumpster-container industry for over 15 years and over the years we have literally thousands of happy clients who have used our service repeatedly and rely on us every year to get the job done right the first time. So without further delay here is our pricing model for you to peruse.
Landfill Costs: Disposing of waste at a landfill  costs money. Each of the 4,000 or so solid waste landfills in America will have  different expenses.. And this will vary from city to city. Landfills, depending on the overhead and the sophistication of their particular site will charge varying prices or what landfills call tipping fees. These fees are calculated on the the weight of the dumpster and the heaviness of the debris you are hauling away. Every container is weighed at the landfill on a scale. We can tell you or you can call the your local landfill to find out what they charge per ton. We will never charge you more for tipping fees unless you go over the allowed weight.
Debris Type: The type of materials you intend on dumping will effect the price of the dumpster rental costs. Recyclable materials will not cost has much as the disposing of hazardous waste or solid waste that can't be recycled. Please keep in mind that the EPA has mandated that it is against the law for dumpster companies to transport hazardous materials and severe penalties will be enforced if you break the law.
Debris Weight: The weight of a rolloff-dumpster will be affected by two factors. One, the size of the container you rent. Canisters come in 4 sizes; 10, 20, 30, and 40 cubic yards. So, a 20-yard bin will have less volume capacity that a 30-yard rolloff, so the cost will be most likely lower for a smaller bin. The second factor is the type of waste you will be putting in the rolloff . Tile roofing is going to be much heavier than grass trimmings or small tree limbs, so obviously it will be more expensive to dump  roofing tiles. If this is your first time renting a canister, please do yourself a favor and let us help you with the quoting process. Many inexperienced people use our dumpster weight calculator and decide its better safe than to be sorry and tend to order a dumpster that is way to big for the job at hand. We can help you save money by putting you in the right size bin. We are here to help you save money not to take advantage of your lack of knowledge.
Rental Period: Easy Dumpster Rental typically offers two rental periods, 7 or 15 days. If you need to keep a dumpster for a longer period than expected, please call us before the rental period ends and we will work with you so you will continue to get a great rate.
So, there is our cost analysis so to speak. We hope that this information has been helpful and it gives you a sense of ease when renting a dumpster from us. If you have further questions, you can go to our FAQ page or by all means call our office. Our friendly, patient stall will be happy to help. Easy Dumpster Rental, making life easier.
It's that easy!
Call Our Team Now
1-888-792-7833