Dumpster Rental in Westerly, RI
Roll-Off Rental Price That Won't Break The Bank
Click To Call 1-888-792-7833Click For Email Quote
Why Our Container Service Plays Second Fiddle To No One In Westerly:
Customer satisfaction is our best selling point. Our team is constantly focused on bringing you the best service. Always striving to improve our ability to be the number one sanitation company in Rhode Island.
Our service can dispose of both residential garbage and construction debris
Please take note that we cannot dispose of hazardous waste
Rent any rolloff-container for 7 to 14 days or more
Get same day service in Westerly and surrounding cities
Get a bin quote faster than a speeding bullet
Dumpster Rental Pricing in Westerly is Based on Many Different Factors
To Receive The Lowest Pricing, Call For A Customized Quote Now 1-888-792-7833
Save With Us Between $10 And $125 On Your Canister Rental Cost:
If you desire and demand on time delivery and pick up then you have come to the right company. Coupled with the fact that our costs our the lowest in the industry. you can't go wrong choosing us. And we guarantee all of our prices.
We have not added fees. Just one flat rate price guaranteed to please
Always transparent costs so you know exactly what you are paying for
We will absolutely match or beat any competitors prices
Low flat rates on a variety of dumpster sizes
An easy to use bin weight calculator to ensure you get a great price
Earn Up To $50 | Share / Like Below
Click To Call 1-888-792-7833
Click For Email Quote
10 Yard Dumpster (2 TONS) 4,000LBS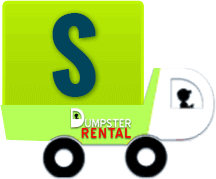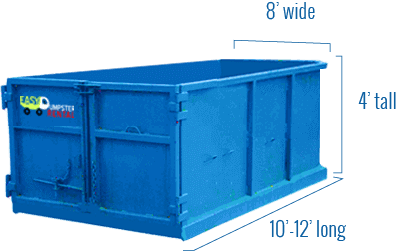 Easy Dumpster Rental
20 Yard Dumpster (3 TONS) 6,000LBS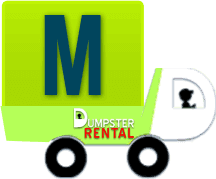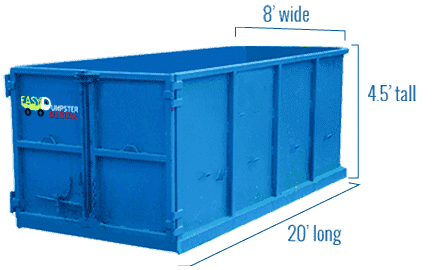 Easy Dumpster Rental
30 Yard Dumpster (4 TONS) 8,000LBS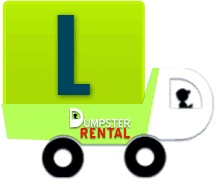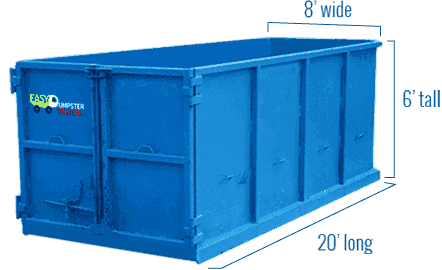 Easy Dumpster Rental
40 Yard Dumpster (5 TONS) 10,000LBS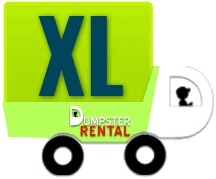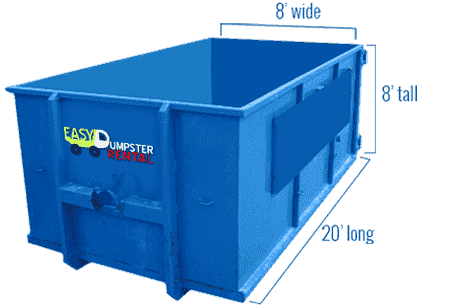 Easy Dumpster Rental
Landfill Location Westerly, RI
Westerly is a town that is located in Washington County in the state of Rhode Island. The Westerly Public Works Department provides all residents with regularly scheduled curbside trash collection services year-round.
Westerly Public Works Department
35 Larry Hirsch Lane
Westerly, RI 02891
(401) 348-2517
Residents who want to dispose of household solid waste themselves, outside of their weekly collection schedule, can make use of 'Area 3' at the:
Westerly Transfer Station and Recycling Facility
39 Larry Hirsch Lane
Westerly, RI 02891
Off RT 91 (Westerly-Bradford Road) near the RIDOT Highway Facility
(401) 315-5615
Monday to Saturday
7:30 am to 3:30 pm
Closed Sunday and most holidays
Recycling In Westerly
The Westerly Public Works Department also provides curbside recycling collection services to all valid Westerly residents.
Residents of Westerly that have recyclable that they want to dispose of themselves can make use of the Westerly Transfer Station and Recycling Facility (year-round). Residential single stream recycling should be carried to Area 4 of the Westerly Transfer Station and Recycling Facility.
Household Hazardous Waste
The Westerly Public Works Department does not deal with the collection or disposal of household hazardous waste in the area. Instead, residents of Westerly that have household hazardous waste, that they wish to get rid of, are asked to contact the Rhode Island Resource Recovery Corporation for more information on the matter.
Rhode Island Resource Recovery Corporation
65 Shun Pike.
Johnston, RI. 02919
(401) 942-1430
Hours:
Monday to Friday
6:00 am to 3:45 pm
Saturday
6:00 am to 12:00 pm
Yard Waste
Residents of Westerly that have yard waste that they wish to dispose of are asked to carry said waste to Area 5 of the Westerly Transfer Station and Recycling Facility.
Christmas trees can be disposed of free of charge at this location, only during the month of January.
Interesting Facts About Westerly
Westerly is a beachfront town founded in 1669. The population has grown to around 22,000 but during the summer months the population doubles. With 5 beautiful beaches, the town has become a tourist destination. Once famous for its granite production the city today is mostly a textile and tourist mecca. Points of interest include Watch Hill and Main Street Historic District. The regional bank, Washington Trust Bancorp is headquartered here. Some notable people living or from Westerly include pop singer Taylor Swift, who has a residency here, and one the best marathon runners in the world, Ellison "Tarzan" Brown.
Why It Is Smart To Rent A Dumpster From An Experienced Company
The great poet Robert Frost once said, when discussing experience, " How many things have to happen to you before something occurs to you?" And that is a great question to ponder before you make a decision. How many times have you decided to rent a service or bought a product just based on a gut feeling? Or you liked the name of the company? Or for a myriad of unsound reasons?
We all have. And sometimes it turns out to be a good decision and others times you wish you never went down that road. Well we here at Easy Dumpster Rental want to ensure you that experience matters, for the following reasons:
Over 15 years experience in the sanitation industry
We have rented over 100,000 dumpster-rolloffs
We are here for the long run
The lowest prices in the canister rental sector
Besides, we have very happy customers and you can read their stories here. We are not going to be here today and gone tomorrow. Our company has a longstanding relationship with the communities we serve. Plus, thousands of clients each year return to us for their next rental project.
This is a testament to the trust and reliability that is the ethos of our company. It is not easy to stay in business. Matter of fact, 50% of all companies never make to their 5th anniversary. We did and we survived the longest recovery that this country has seen in many decades.
We strongly believe that our company has the brightest sales team around. And we only hire staff that has experience in the container-rolloff industry. This ensures you are getting expert advice to help you make the right choice. This helps build trust and confidence. When you call us you can rest assured that you are going to get a quick accurate quote. And we will match or beat any competitors prices.
Also, you don't have to worry about what size bin you are going to need. Tell us a little about your project and in a flash, we will be able to tell you the right size container you need. Some people make the mistake of ordering a dumpster that is larger than they need. We will take the guess work out and save you money by getting the right size for your needs.
We are in the business to save you money not to take it from you. And we have a variety of dumpster sizes to choose from. So no matter if you are doing a small residential rehab or a construction demolition project, we can meet your needs.
You will never see added surcharges to your invoice. Because we will give you a flat rate price. Our cost structure is very transparent and our sales agents will be happy to break down our prices for you.
No surprise fees unless you try to sneak in hazardous waste which is against the law for bin companies to haul.
These are a few of the reasons that we have been in business for over 15 years. We have worked hard to cultivate a culture of trust with our customers. Easy Dumpster Rental customers feel that they can have the assurance and a strong level of reliability most companies only dream of. We are here to stay. Call us and find out why we are the fastest growing roll-off company in America.
It's that easy!
Call Our Team Now
1-888-792-7833