Dumpster Rental in Chesapeake, Virginia
Get Garbage Dumpster-Container For Less
Click To Call 1-888-792-7833Click For Email Quote
Why We Can Provide Great Rolloff Service In Chesapeake:
Providing outstanding customer service is what we do best at Easy Dumpster Rental. The client always comes first and we will go to great lengths to keep you happy and have a strong desire so that you are completely satisfied.
All of our roll off quotes are free and so are consultations with our sales team
Always on time delivery and pick up guaranteed. We take great pride in our service
No one comes close to the abilities of our staff has to give you a great experience
We are reliable and trustworthy. Our aim is for you to have a seamless encounter with our company
A large variety of dumpster sizes to choose from. We make the impossible possible
Dumpster Rental Pricing in Chesapeake is Based on Many Different Factors
To Receive The Lowest Pricing, Call For A Customized Quote Now 1-888-792-7833
Save With Us Between $10 And $140 On Your Dumpster-Bin Rental Cost:
We are the lowest priced container company in Chesapeake and you will have to seek high and low to find a company that can match or beat our prices. We have a proven track record and thousands of repeat customers.
Prices so low on rolloff rentals you will be singing and dancing in the streets
We can give a quote so fast that you will think that you are on a rocket ship to the moon
No hidden fees or nasty surcharges tacked onto your bin rental costs. All fees are up front
No construction job is to big for us to handle. Need to blow up a building? Will be there to pick up the pieces
Dumpster FAQ page to help you gain insight into the running of our business
Earn Up To $50 | Share / Like Below
10 Yard Dumpster (2 TONS) 4,000LBS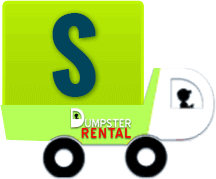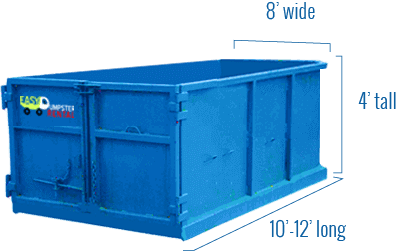 Easy Dumpster Rental
20 Yard Dumpster (3 TONS) 6,000LBS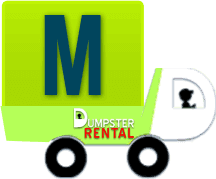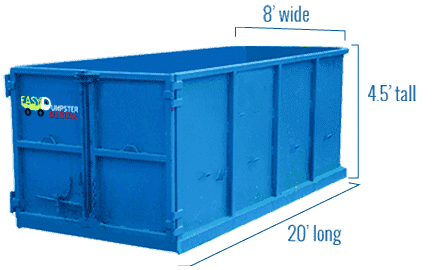 Easy Dumpster Rental
30 Yard Dumpster (4 TONS) 8,000LBS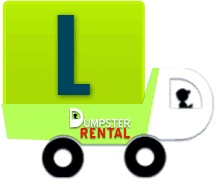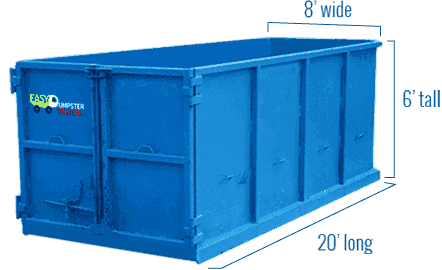 Easy Dumpster Rental
40 Yard Dumpster (5 TONS) 10,000LBS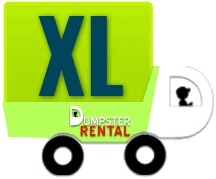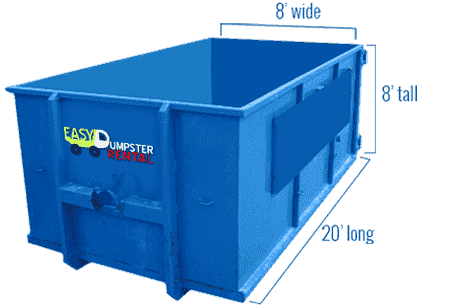 Easy Dumpster Rental
The Many Uses Of A Dumpster-Container in Chesapeake
Chesapeake was founded in 1963 and with a population of 220,000 residents it is a rather young city in terms of incorporation. The city is very diverse with many protected forests, farmlands, and wetlands including, The Great Dismal Swamp National Wildlife Refuge. Chesapeake City Public Schools is the largest employer with 5,700 employees. The city is also home to two Naval bases.
Easy Dumpster Rental caters to 2 segments of the market. We rent dumpsters-bins to the residential community and to the construction industry. Let's first look at the many uses the homeowner can put a residential bin to good use. Because we offer a wide variety of dumpster-rolloff sizes we can accommodate the home or condo owner with a myriad of uses in or outside the home. For instance, if you need to do some clean-up in the backyard clearing away shrubs, tree limbs, leaves or you have some dirt that needs to be moved to a landfill, we have just the right size bins to help you with those projects. If you have some unused stuff around the house like clothes or other items that can be recycled, Easy Dumpster Rental will be more than happy to take those unwanted items to the recycling center for you.
If you are thinking of doing a home remodel or a complete rehab on the inside, we have dumpster-containers that can handle those jobs also. And what is nice about having a rolloff-bin is that it can serve a couple of purposes. One, it can keep your yard looking neat and tidy. Secondly, it can serve like a storage unit until you are ready to have the old cabinets, toilets, etc… hauled away to a landfill. And this will also keep your neighbors pleased with a organized, litter free front yard. So, a dumpster-canister is the best possible solution to hauling away your waste rather than using a pick up truck, which will waste your time because you will have to make a numerous trips to the landfill.
As mentioned above, the other sector of the market we service is the construction industry. With over 15 years of dumpster rental experience and with a majority of our business coming from the construction sector we have the insights to help you plan for any job. Be it a hi-rise demolition or a rehab of an office building we have the capabilities to help you get the job done on time and under budget. We guarantee on time delivery and pick up. And when you are under time constrains you can't be fooling around missing deadlines because a dumpster company is running on their schedule not yours. Because we have so much experience under our belts, we have made tons of industry contacts that will insure that you get your dumpster-rolloff there on time. And when its time for a pick up, we will be johnny on the spot. We realize how important time is to you and we will not a waste a second of yours. We have the lowest prices and a transparent pricing model. This ensures that you know what you are paying for. We take great pride in our service and as a result, we have literally thousands of repeat customers every year. So, no matter if you are a home owner or a construction behemoth, we can help you get the job done and done right. Give us a call, get a free quote, and find out why we are the Number One dumpster rental company in Chesapeake.
Transfer Station Location In Chesapeake, VA
Chesapeake is a city in the United States and the commonwealth of Virginia. Residents as well as public and private haulers can use the city's Transfer Station to dispose of household hazardous Waste safely.
Transfer Station
901 Hollowell Lane,
Chesapeake, VA 23320
Phone – 961-3943
Hours of Operation
Monday – Friday, 7:00 a.m. – 3:00 p.m.
Saturday 7:00 a.m. – 12:00 noon
The Residential Waste Disposal Guidelines is available on the website.
Recycling in Chesapeake, VA
Curbside recycling is available for Chesapeake, VA residents. Residents without a recycling bin can call 382-CITY (2489). Residents residing in apartments can take items to the center at 1958 Diamond Hill Road.
Accepted items include:
Glass jars & bottles
Gift Wrapping Paper
Paper bags
Tin or steel cans
Cardboard
Flatten all boxes
Magazines & catalogs
Telephone books
Junk mail
Newspapers & inserts
Prohibited Items include:
Motor oil containers
Gift Ribbon and Bows
Ceramics or dishes
Garbage
Styrofoam
Window glass or mirrors
Electronics
Food waste
Light bulbs
Hazardous Waste Disposal
Hazardous waste materials cannot be disposed of with regular household waste. Residents should dispose of HHW at one of the city's quarterly Chesapeake Recycles Day events or at SPSA transfer stations.  SPSA Hazardous Waste Disposal website to learn more about proper HHW disposal.
Here is a list of HHW:
Fuel Additives
Air Conditioning Refrigerants
Starting Fluids
Automotive Batteries
Fertilizer
Gasoline/Diesel Fu
Transmission & Brake Fluid
Antifreeze
Wood Preservatives / Fungicides
Stains & Finishes
Herbicides
Furniture Strippers
Insecticides
Pesticides
Driveway Sealer
Adhesives & Glue
All Paint
Yard Waste
Yard waste is picked up with regular collections and should be place at the curb. eaves or grass clippings should be placed in clear plastic bags or compostable paper bags. Limbs and other tree clippings should be places in bundles and places beside regular carts.
Bulk Waste
Bulk waste collection is only available for individuals currently being served by the City of Chesapeake Waste Management Division. Collections is done on the same day as household garbage. Call 382-2489 to request collection.
It's that easy!
Call Our Team Now
1-888-792-7833