Dumpster Rental in White Plains, NY
Get Budget Busting Container Pricings Today
Click To Call 1-888-792-7833Click For Email Quote
How We Can Provide You With Excellent Service In White Plains:
The life blood on any great company is the ability to give outstanding customer service. We are well equipped to offer service that will make your heart beat that much faster and a team of experts who have the right stuff.
Get a dumpster quote so quick it will make your head spin
Our staff is friendly, knowledgeable and very accommodating to fulfill your needs
Request an rolloff online pick up to help you save time
We offer a seamless ordering process that is quick and efficient
Need a residential dumpster? No problem, we cater to the homeowner
Dumpster Rental Pricing in White Plains is Based on Many Different Factors
To Receive The Lowest Pricing, Call For A Customized Quote Now 1-888-792-7833
Save With Us Between $10 And $100 On Your Dumpster Rental Cost:
When it comes to saving money look no further than Easy Dumpster Rental. With our many years of service we know how to properly price a dumpster rental to maximize your savings. We can't be beat when it comes to costs.
We will match or beat all competitors container prices. And we guarantee this promise
Our 15 years of experience plus industry knowledge equals exceptional pricing
No hidden fees. All of our prices are made upfront
Bottom line flat rate pricing model
Stop paying exorbitant fees when you can save big bucks with us
Earn Up To $50 | Share / Like Below
Click To Call 1-888-792-7833
Click For Email Quote
10 Yard Dumpster (2 TONS) 4,000LBS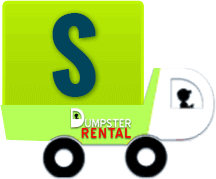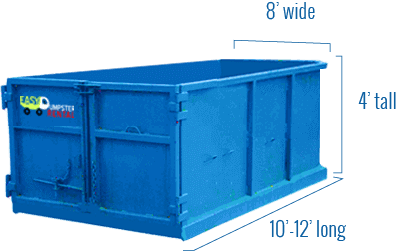 Easy Dumpster Rental
20 Yard Dumpster (3 TONS) 6,000LBS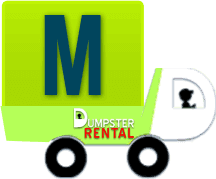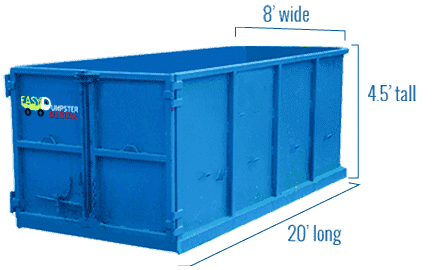 Easy Dumpster Rental
30 Yard Dumpster (4 TONS) 8,000LBS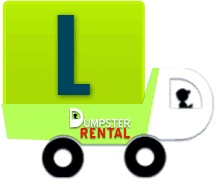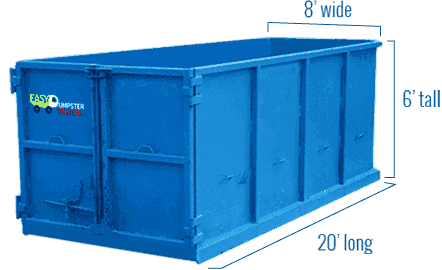 Easy Dumpster Rental
40 Yard Dumpster (5 TONS) 10,000LBS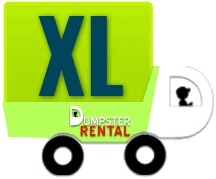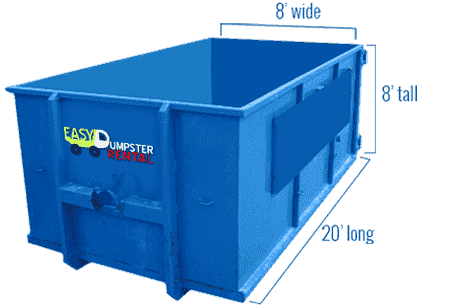 Easy Dumpster Rental
Landfill Location White Plains, NY
White Plains is an influential city in the state of New York and the county seat of Westchester County.
Throughout all of Westchester County, residential trash collection services are provided by County Waste Management.
The Brockway Place Transfer Station serves as the main collection station for White Plains. The Brockway Place Transfer Station has the capability of managing anywhere between 600 and 900 tons of waste each day.  
Brockway Place Transfer Station
75 Brockway Place,
White Plains, NY 10606
(914) 423-0420
Monday-Friday
7:00am-3:00pm
Recycling In White Plains
Recycling pick up services in White Plains are also provided by County Waste Management as well. However, in addition to this, White Plains and the rest of Westchester County also have a few recycling drop off facilities and opportunities available to them.  
Gedney Recycling Yard
87 Gedney Way
White Plains, NY 10606
(914) 422-1472
Monday-Saturday
8:00am-4:00pm
Residents of White Plains are allowed to make use of the Gedney Recycling Yard; however, they will need to provide the officials on site with valid identification.
Items that can be dropped off include:
Paper (Newspapers, telephone directories, office papers, cardboard, etc.)
Plastics (Clean containers that are labelled # 1- 7)
Glass (Clean jars and bottles used for food or beverages)
Metal (Clean aluminium foil, tin, and metal food or beverage containers)
Scrap Metal (Pots and pans, irons, wire hangers, metal kitchen utensils, toasters)
More information on the Gedney Recycling Yard, as well as the materials that are accepted there, can be found here.
Household Hazardous Waste
The Household Material Recovery Facility in Westchester County accepts household hazardous waste from White Plains and the surrounding area.
Some of the commonly accepted HHW items are; cleaning products, household chemicals, batteries, medication propane tanks, and electronic waste. A concise list of the HHW items that are accepted at this facility can be found here.
Household Material Recovery Facility
15 Woods Rd,
Valhalla, NY 10595
(914) 813-5425
Yard Waste
The Gedney Recycling yard also functions as a drop off site for yard waste; such as grass clippings, leaves, and cuttings. The facility also subsequently provides free unsplit firewood logs, mulch, and compost, to any and all White Plains residents.
Few White Plains, NY Facts
White Plains is a quick train ride to Manhattan and that is one of the reasons it makes for a very desirable city to call home. The city has many large corporations with operations including ITT, the U.S. headquarters of Heineken, and the New York Port Authority. Fordham University and Pace University School of Law are located here. Some famous people from White Plains include the founder of Facebook, Mark Zuckerberg and NFL Hall of Famer, Art Monk.
The Importance Of Recycling
One of the biggest threats facing our fragile eco-systems is the fact that most people are not taking recycling seriously enough. Case in point, 75% of all trash going to our landfills are materials that can be recycled. After all of these years of government preaching to the the citizens of this country, recycling seems to be falling on deaf ears. Coupled with the fact that the 3,000 or so landfills in this country are running out of space. And in addition, landfills costs millions of dollars to build plus it can take cities or counties up to seven years to get a permit.
So the importance of recycling is critical and we all most become more aware of the benefits of this simple procedure. Most cities have on their local website a whole page or more dedicated to the business of recycling. Local governments even provide recycling bins for curbside pick up. And more and more towns are going to single-stream recycling to make it even super easier to recycle.
The benefits are enormous. By reusing glass and plastics for example, helps save on production and energy costs. Natural resources are conserved when we recycle paper products. That means we don't have to deplete our forests for new paper. When a material is recycled we save on on raw materials. And a huge savings on energy costs. Because recycled materials have all ready gone through a refining process it is a lot easier to manufacture your Coke can than going mining for aluminum and companies save on energy costs of converting the raw materiel into a can.
Recycling creates hundred of thousands of jobs and pumps billions of dollars into our economy every year. And when you think that the country's recycling rate is only at 35%, imagine if we doubled that figure. At the turn of the 20th century the majority of Americans recycled but the desire or the sense of urgency has lessened every generation since.
Did you know that a ton of plastic containers saves about 8,000 kilowatt hours? One ton of aluminum cans can save 15,000 kilowatt hours and up to 50 barrels of oil. One ton of recycled glass can prevent 8 pounds of air pollution from entering our atmosphere. These above mentioned benefits are tangible and really help keep our environment clean, saves on depleting our natural resources and the air we breath is much cleaner. So lets get busy and begin to recycle. It is so simple.
Easy Dumpster Rental is in the recycling business. We are more than happy to take your recycling materials to a local landfill that recycles or to a local recycling center. We have the perfect size bins that can be ordered online and at  a price that you can't beat. Will deliver the canister and pick it up at your convenience. So keep us in mind when you need a company to help you haul your trash away.
It's that easy!
Call Our Team Now
1-888-792-7833