Dumpster Rental in Cranston, RI
Rent A Roll-Off And Save Like Never Before
Click To Call 1-888-792-7833Click For Email Quote
How We Provide First-Rate Service In Cranston:
Our main goal is to give our customers an experience that they will be thoroughly happy with. We are a no-nonsense business that realizes that you don't have the time or money to be fooling around.
Request an online bin quote for free with no obligations
We provide both residential and construction containers
Save some time and request an online pickup
A variety of canister sizes to choose from
Same day service in Cranston and surrounding towns
Dumpster Rental Pricing in Cranston is Based on Many Different Factors
To Receive The Lowest Pricing, Call For A Customized Quote Now 1-888-792-7833
Save With Us Between $10 And $85 On Your Dumpster Rental Cost:
Easy Dumpster Rental is a brand you can trust. With over 15 years of experience and tens of thousands of dumpsters rented, we've built a very loyal following. Thousands of repeat customers call on us every year.
The lowest prices in the industry
All of our fees are made upfront
A simple to use dumpster weight claculator
Best rolloff price guarantee
Do yourself a favor and begin saving today
Earn Up To $50 | Share / Like Below
Click To Call 1-888-792-7833
Click For Email Quote
10 Yard Dumpster (2 TONS) 4,000LBS
Dumpster Calculator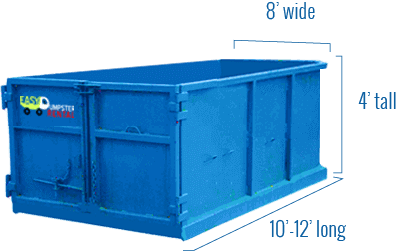 Easy Dumpster Rental
Dumpster Dimensions
4' High, 8' Wide, 10-12' Long
Ideal For
Smaller clean out or construction projects
One car garage cleanups
Bathroom remodeling
Smaller painless placement and loading.
10-yd roll-off = 90 wheelbarrows = 4 pickups = 39 Brute Trash Cans(44gal)
30-yard roll off will accommodate around 12 pickup trucks of rubble. This is our most popular choice for contractors.
20 Yard Dumpster (3 TONS) 6,000LBS
Dumpster Calculator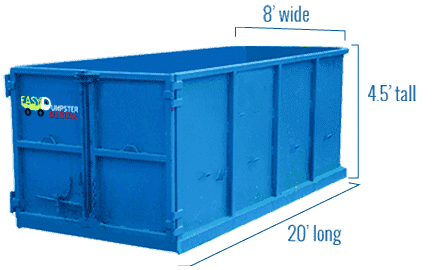 Easy Dumpster Rental
Dumpster Dimensions
4.5' High, 8' Wide, 20' Long
Ideal For
Bigger garage cleanouts
heating & air conditioning
house remodeling
carpeting, roofing
minor landscaping
20-yard roll off will accommodate around 8 pickup trucks of rubble. This is our most popular choice for homeowners.
30 Yard Dumpster (4 TONS) 8,000LBS
Dumpster Calculator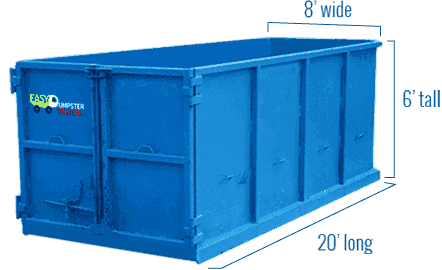 Easy Dumpster Rental
Dumpster Dimensions
6' High, 8' Wide, 20' Long
Ideal For
Major Construction
Remodeling Projects
Demolition
Tree Removal
Large Landscaping
30-yard roll off will accommodate around 12 pickup trucks of rubble. This is our most popular choice for contractors.
40 Yard Dumpster (5 TONS) 10,000LBS
Dumpster Calculator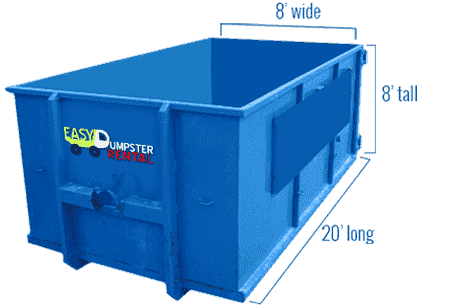 Easy Dumpster Rental
Dumpster Dimensions
8' High, 8' Wide, 20' Long
Ideal For
Metal Recycling
Major Remodeling Projects
New Construction Projects
Commercial Building Clean-Outs
Apartment Buildings Roof Replacement
Large Volume Cardboard, Paper Disposal
40-yd roll-off = 360 wheelbarrows = 16 pickups = 156 Brute Trash Cans(44gal)
Landfill Location In Cranston, RI
Cranston previously known as Pawtuxet, is a town in Providence County, Rhode Island. The Central Landfill in the state will accept waste generated by residents from Providence and other counties. In addition, waste generated in the town can be dropped off at Transfer Station in the town that is operated by Waste Management. The location for both facilities are listed below:
WMI Cranston Transfer Station
1610 Pontiac Ave
Cranston, RI 2920
(401) 463-6777
Hours of Operation
Monday-Friday: 6am-2:30pm
Saturday: 6am-12pm
Central Landfill
65 Shun Pike
Johnston, RI 02919
401-942-1430
Hours of Operation
Monday through Friday from 6:00 a.m. to 3:45 p.m.
Saturday from 6:00 a.m. to 12:00 p.m.
Recycling in Cranston, R.I.
Cranston residents occupying one, two, three and four-family dwellings are provided with curbside Refuse and Recycling collection. Recyclables are collected once every week. Residents are asked to have their bins out and ready for pickup no later than 6:15 am on collection day.
 Items that should be recycled include:

Plastic containers
Glass containers
Paper
Cardboard
Metal cans
Foil
Items that should not be placed in recycle bins include:
Plastic Bags
Propane tanks
Oil based paint
Toilet paper
Rechargeable batteries.
Cranston Has A Cool Tool To See What Can Be Recycled
The Rhode Island Resource and Recovery Center has what they call a Recycling A-Z List. Just enter into the search bar any item and it will give you results that will let you know if the item should be put into your cart or bin. Also, it will provide information if a particular item can be recycled. The device will also let you check by city or county. This tool is a great idea and a fantastic time saver. Instead of combing through your city's website searching for what is or isn't recyclable, you get instant results through the search bar.
Hazardous Waste Disposal In Cranston, RI
The town will not collect Hazardous Waste with regular garbage or recyclables. Residents in need of household hazardous waste disposal should contact Rhode Island Resource Recovery Program's Eco-Depot at 942-1430 x 241.
Here is a shortlist of HHW:

Ammonia
Bleach
Brake fluid
Motor oil
Organic solvents
Oven cleaner
Disinfectants
Toner
Transmission fluid
Wood stain
Insecticide and insect repellent
Kerosene and fuel oils
Antifreeze
Bulk Waste Collection In Cranston, RI
Property owners are responsible for disposing of items that are too large to be disposed of with regular garbage. Bulk waste collection can be arranged by calling Waste Management at 1-800-972-4545. A fee of $18 is charged per item.
Yard Waste Pickup in Cranston, RI
The town will pick up yard waste separately on regular collection day. The collection is done between April 4th and December 16th. Click here for more information.
The 4 R's Of Recycling
It is a startling fact that over 70% of all trash that goes to your local landfill can actually be recycled. Landfill space is becoming rarer and it's not that we don't have the space for new landfills, on the contrary, we have plenty of lands we can use. But, who wants a landfill in their backyard and besides, the cost of getting a new landfill off the ground can run into millions of dollars.
The goal here is to lessen our dependency on landfills and recycle more of our trash. Landfills contribute to air pollution and the possibility of contaminating our underground water sources. So, we are going to look at the 4 R's of recycling to help us better manage our environment. The 4 R's are, Reduce, Reuse, Recycle, Rethink. We will discuss these tools to help us all become better stewards of our eco-systems.
Reduce: When we use less of something we conserve our natural resources. For example, using a tote bag instead of a plastic bag at the grocery store. We have a major problem in both the Pacific and Atlantic Oceans with giant plastic patches that are are harming our seas and sea life.
Reuse: By purchasing more durable goods is a great way to reuse an item. And if you decide that you don't want that particular product anymore, you can pass it on to someone else to continue its life cycle instead of tossing it in the trash.
Recycle: One of the great benefits of recycling is that we can conserve our natural resources. The more paper that gets recycled the fewer trees we have to chop down. This lack of paper recycling is beginning to deplete our forests.
Rethink: If we contemplate our actions and consider the benefits of recycling we can have a positive impact on our environment. Instead of throwing something away, decide if it is something that can be recycled or reused. It is the small decisions we make that can have either a positive or negative effect. Read all you can on the importance of recycling. Get versed on this subject and do your part to help save our planet.
Easy Dumpster Rental can help you with your recycling needs. Call us now and ask how we can help. We are more than happy to take your recyclables to the local recycling center. And our prices are very competitive and cheaper than renting a pickup truck. So let us help you and together we can keep our planet intact for future generations.
It's that easy!
Call Our Team Now
1-888-792-7833