Dumpster Rental in East Providence, RI
Get Super Roll-Off Rental Prices Today
Click To Call 1-888-792-7833Click For Email Quote
How We Are Able To Produce Tremendous Bin Service In Providence:
We don't use the term "Customer Satisfaction" in an off-hand manner. We cater to our clients every wish. We will do what is takes to offer exemplary service without sacrificing quality.
We provide construction containers for the building trades
Our variety of canisters are perfect for any size project
We offer a headache and stress-free environment
A FAQ page to answer all of your questions
Same day service available in East Providence
Dumpster Pricing in East Providence is Based on Many Different Factors
To Receive The Lowest Pricing, Call For A Customized Quote Now 1-888-792-7833
Save With Us Between $10 And $90 On Your Dumpster Rental Cost:
There is no other sanitation company that can compete with us when it comes to providing the lowest prices. We will beat or match any competitors prices and that is a promise you can take to the bank.
Flat rate pricing model that eliminates surprise fees on your invoice
We have rented over 100,000 rolloffs and that speaks for its self
An easy to use dumpster weight calculator
All of our costs are highly transparent
Call us now! And begin saving you hard earned money
Earn Up To $50 | Share / Like Below
Click To Call 1-888-792-7833
Click For Email Quote
10 Yard Dumpster (2 TONS) 4,000LBS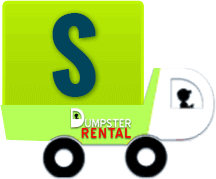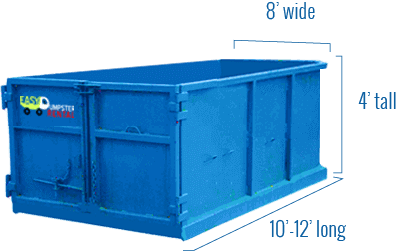 Easy Dumpster Rental
20 Yard Dumpster (3 TONS) 6,000LBS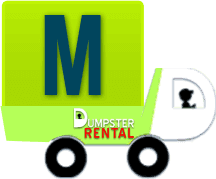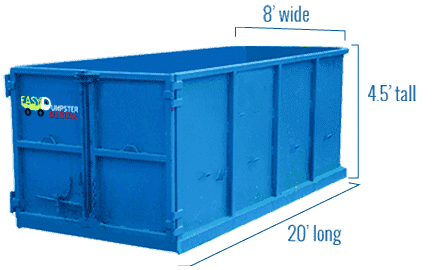 Easy Dumpster Rental
30 Yard Dumpster (4 TONS) 8,000LBS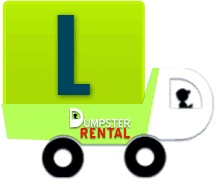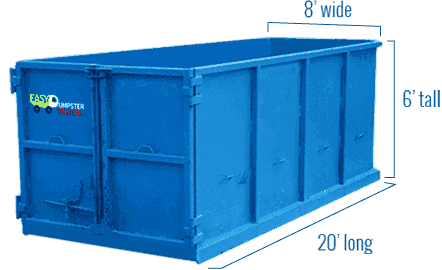 Easy Dumpster Rental
40 Yard Dumpster (5 TONS) 10,000LBS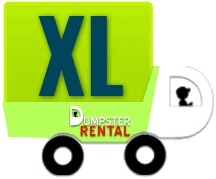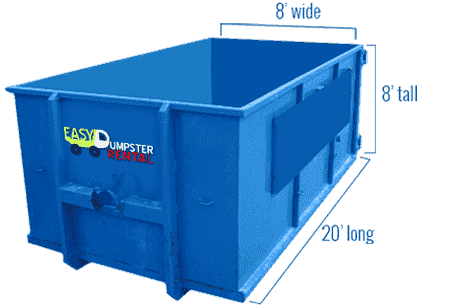 Easy Dumpster Rental
Waste Drop-off In East Providence, RI
East Providence is a town in Providence County in Rhode Island. Residents can drop-off waste at the state landfill that is operated by The Rhode Island Resource Recovery Corporation (RIRRC). The landfill does offer free disposal for some items but a special disposal rate is attracted to some items.
Central Landfill
65 Shun Pike
Johnston, RI 02919
401-942-1430
Hours of operation
Monday – Friday: 6:00 a.m. to 3:45 p.m.
Saturday: 6:00 a.m. to 12:00 p.m.
Here is a short list of items accepted at the Small Vehicle Area free of charge:
Cardboard
Cooking Oil
Plastic buckets
Milk crates
Kitty litter baskets
Lawn furniture
Pet carriers
Toys & playhouses
Items that are accepted for a fee include:
Wood
Scrap Metal
Tires
Trash & Construction Debris
Recycling In East Providence, RI
Each resident in East Providence is provided with a free recycling cart in which recyclables should be placed in. Residents that find that they are overfilling their recycling bin can contact the Recycling Office at 435.7710 or 435.7701 during regular business hours to request a second cart.
Accepted items include:
Glas bottles
Steel cans
Newspaper
Plastic bottles
Magazines
Office paper
Prohibited items are:
Plastic bags
Hanging files
Light bulbs
Plastic binders
Electronics
Gum
Straws
Household Hazardous Waste Disposal East Providence, RI
East Providence residents can contact Rhode Island Resource Recovery Corporation at (401) 942-1430 ext. 241 to find out about how to dispose of Household Hazardous Waste. Per R.I. DEM regulations the town is not permitted to collect Household Hazardous Materials with regular trash. Residents are therefore urged to contact the department for information on proper HHW disposal solutions. Household hazardous items can be toxic if not dispose of properly and should never be thrown in the trash or recycling bin or dispose of down the drain.
Here is a short list of household items that require proper disposal:
Cleaners
Automotive fluids, fuels & oils
Compact fluorescent bulbs
Automotive batteries
Mercury-containing thermometers
Waste fuels & solvents
Waste oils
Fluorescent tubes
Bulk Item Collection In East Providence, RI
Residents are urged to recycle old furniture by contacting RI Donation Exchange at 401-831-5511 or donate to local non-profit organizations. If the item cannot be recycled it will be collected at the curb by town haulers. Only one bulk item is allowed per week. Keep in mind that all carpets and rugs should not exceed 4′.
 Yard Waste Pickup
The town will collect yard waste on the same day as regular household trash between April 1 and December 31 (weather permitting). All leaves and grass should be placed in a reusable container or a paper bag for collection. Bags are available at the town hall for a small fee of $1.75. The town will not collect logs or larger wood waste. Click here for the current yard waste collection schedule.
Interesting Facts About East Providence
East Providence is the 5th largest city in the state with a population hovering around 45,000 residents. In 1641, The Plymouth Colony purchased a huge tract of land from the Indians which eventually began the city we know today. The town was incorporated in 1862. The city has many historic places registered with The National Register of Historic sites including the Richmond Paper Company Mill Complex and the James Dennis House. Some well-known people from the town include cartoonist Jimmy Hatio and Jennifer Lee, co-writer and co-director of the Disney classic, "Frozen."
Factors To Consider When Loading you Dumpster
It is important to emphasize here the necessity of properly filling your container-bin. You can't just throw things into a container willy-nilly. There are certain steps and precautions you must take to make sure that the bin can be safely transported down our city's highways. And, it is imperative that you use all the volume that container can hold so you get the best use out of your canister rental. Below we will outline 3 important steps you should consider when loading your roll-off.
No Hazardous Materials: The EPA strictly prohibit dumpster hauling companies from transporting hazardous waste. There are specially designed trucks that can this type of materials. If you have hazardous or household hazardous waste that you need to dispose of, please contact your local Regional EPA Office or call your local government officials. They will give you the information you need to find a company that is allowed to handle hazardous waste. Hazardous waste is very dangerous and certain precautions must be in place before these materials can be safely moved.
Safety: Any debris that you fill your bin with must not hang over the sides or be over the rim of the container. The hauler taking your canister cannot pose a risk to pedestrians, low hanging power lines or tree limbs. They also must be careful that they do not come in contact with cars they could have potential contact with materials spilling over the sides. So do take precautionary steps that your dumpster is properly filled. Call our office for more tips and loading ideas to maximize the volume of the bin.
Roll-Off Weight: Please, if you order a container and tell us it is for the removal of backyard shrubs and then fill it with concrete, there is going to be a problem. The quote you received was to haul a material that was lighter than concrete and when roll-off get's to the landfill, there will be a lot more weight to disposed of than originally quoted, extra charges for tipping fees will be added to your account… And that fee will be on you not Easy Dumpster Rental. When the canister arrives at the landfill it will be weighed. We do a great job of giving you an accurate quote so you know exactly what you are going to end up paying. We do not want to charge you extra fees so be careful you stick to your original plan. If you decide that you are going to put different debris into your dumpster, then call us for an adjustment.
To recap, ensure that there is nothing sticking out from the sides and no debris is over the rim of the bin. Remember to fill the dumpster with materials you were given a quote for. If you need to add some other material call us and get a brand new quote. We want to ensure that you have a great experience with us. With some prior planning and calling our office with questions, we are sure everything will go as smooth as silk.
It's that easy!
Call Our Team Now
1-888-792-7833