Dumpster Rental in Pawtucket, RI
Get The Very Best In Rolloff Rental Prices
Click To Call 1-888-792-7833Click For Email Quote
How We Stand-Out From The Crowd With Outstanding Service In Pawtucket:
We never rest from continuing to offer top-flight service to our customers. We never say "NO" and will do everything humanly possible to make you glad you choose us for all your bin rental needs.
Request an online quote for free
We have rented over 100,000 containers
A variety of roll-off sizes available
We rent to the construction industry
Same day service available in Pawtucket
Dumpster Rental Pricing in Pawtucket is Based on Many Different Factors
To Receive The Lowest Pricing, Call For A Customized Quote Now 1-888-792-7833
Save With Us Between $10 And $90 On Your Dumpster Rental Cost:
Easy Dumpster is a brand you can trust. With over 15 years experience and thousands of repeat customers every year, we feel confident that you will have a great relationship and the lowest prices in Rhode Island.
An easy to use dumpster weight calculator to ensure you get the lowest possible price
No hidden fees ever with EasyDumpsterRental
Great low prices on canister guaranteed
We will match or beat any competitors price
All of our rates are transparent
Earn Up To $50 | Share / Like Below
10 Yard Dumpster (2 TONS) 4,000LBS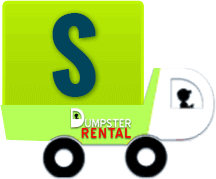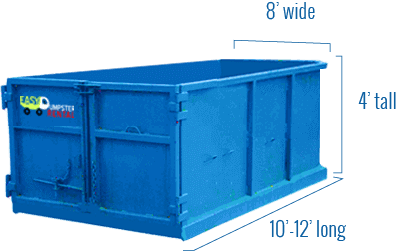 Easy Dumpster Rental
20 Yard Dumpster (3 TONS) 6,000LBS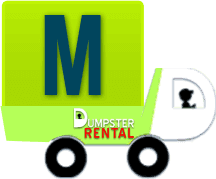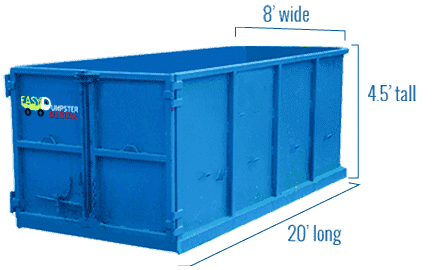 Easy Dumpster Rental
30 Yard Dumpster (4 TONS) 8,000LBS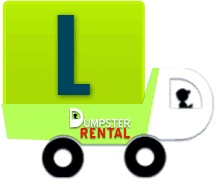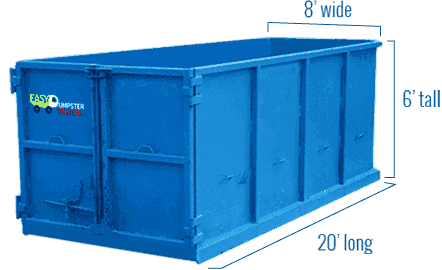 Easy Dumpster Rental
40 Yard Dumpster (5 TONS) 10,000LBS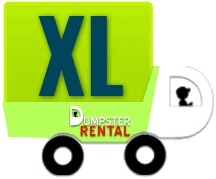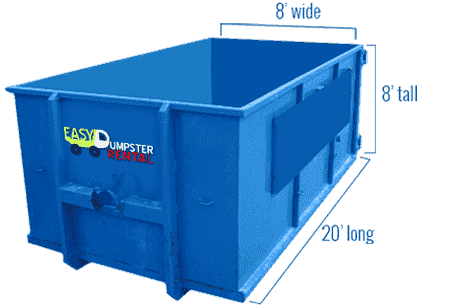 Easy Dumpster Rental
Landfill In Pawtucket, RI
Pawtucket is a city in Providence County in the state of Rhode Island. Proper solid waste disposal solutions are provided to state residents to protect the environment and public from the harmful effects of waste. While some waste items are safe, many are hazardous and potentially harmful. Residents are asked to make safe decisions and be responsible regarding the disposal of household trash. In addition to placing garbage at the curb for collection, waste items can be dropped off at Central Landfill.
Central Landfill
65 Shun Pike
Johnston, RI 02919
401-942-1430
Hours of Opening
Monday through Friday from 6:00 a.m. to 3:45 p.m.
Saturday from 6:00 a.m. to 12:00 p.m.
Recycling In Pawtucket, RI
Recycling bins should be placed at the curb for collection, not before 4:00 am the day before scheduled collection. Containers should not be placed on the street or close to any items such as cars or light wires that will interrupt collection. All recycled should be cleaned before being placed in bins.
Here is a shortlist of recyclables:
Plastic containers
Glass containers
Paper
Cardboard
Metal cans
Foil
Etc.
Here is a shortlist of non-recyclables: 
Plastic Bags
Propane tanks
Oil based paint
Toilet paper
Rechargeable batteries.
Etc.
Go here for more information.
Fascinating Facts About Pawtucket
Pawtucket was founded in 1671 and straddles the Massachusetts border. Its current population is close to 72,000 residents. At one time is was a major producer of cotton textiles and iron works. The Boston Red Sox Triple-A team, The Pawtucket Red Sox's plays here at McCoy Stadium. The toy company "Hasbro" has it's corporate headquarters in Pawtucket. Some notable people from the city include television personality David Hartman, poet Gary Whitehead, and journalist Irving R. Levine.
Hazardous Waste Collection Event
The city will collect latex paint on regular garbage collection day. All paint cans should be left to air dry before collection then mixed with regular garbage. Other hazardous items can be taken to the Eco-Depot in Johnston. Call (401) 942-1430, ext. 241 for information on upcoming events.
Here is a short list of some hazardous household materials:
Kerosene and fuel oils
Ammonia
Bleach
Transmission fluid
Brake fluid
Disinfectants
Motor oil
Organic solvents
Insecticide and insect repellant
Oven cleaner
Antifreeze
Toner
Wood stain
Bulk Waste Pickup
Any property that is managed by a private company is responsible for disposing of all waste items too large for regular garbage disposal. Free weekly pickup is provided for others residents. Each residence is allowed one item per week. Additional items will attract a cost.
Bush Collection
Bush and other yard waste will be pickup on the regular collection day. Grass, plants, leaves, and other bush waste should be separated from regular garbage. Tree limbs should be tied into very small bundles and should not be more than three inches in diameter and no longer than three feet in length.
Questions Concerning Dumpster Rental In Pawtucket
We get many phone calls each day concerning the roll-off rental process. So we have compiled a list of the most frequently asked questions and to help you get a feel for how our company runs its business. We hope that this is helpful.
What can I use a container for? Typically bins are used to haul away trash and debris. For example, you are doing a bathroom remodeling project, a rolloff is perfect for hauling away all the materials that you need to have taken to a landfill. We also rent construction dumpsters to help contractors with managing their huge demo jobs. We have dumpsters in a variety of sizes including 10, 20, 30, and 40 cubic yards.
Are bins expensive? No. It is the most economical and prudent way to get your trash or debris to either a landfill or recycling center. When compared to renting a large pick up truck, a canister is a less expensive option. When you start to factor in the rental fees, insurance, gas and a number of trips you will have to make back and forth to a landfill, a dumpster is easily the best option. Lets say for argument sake, you have about 4 pick-up trucks worth of debris you need to unload. Our 10-yard bin which is equal to the volume of 4 pickup trucks, can make one trip to the landfill for you. But with the pick up truck, you will have to make 4 trips. This is not a wise use of your time or money.
How long can I keep a container? Most people rent for either 7 or 14 days. However, if you need it for a longer period. No problem. You can keep a bin for as long as you need it to complete a project. But, if you rent it for 14 days and you need more time please call us ahead of time so we can work out payment options. We don't want to charge you late fees. So give us buzz and we will do everything we can to make you a happy camper.
What payment options are available? We accept most major credit cards including Visa, MasterCard, Discover Card, American Express and PayPal.
Can a dumpster damage my property? Dumpsters do get quite heavy. With that said, if you go to your local lumber yard and pick up some plywood or planks to place under the wheels this should minimize any damage. The best option, though, if all possible, is to place the bin in the street. Just check first with your local government officials to see if this is permissible and if you need any permits.
How far in advance to I need to request a container? We would like 48 hours to help us with the necessary logistics. However, we know that emergency situations do arise and we can get you a bin within 24 hours. Please try to call us first thing in the morning so we can make this happen.
We hope this has been instructive. If you have any other questions please feel free to call our office. The sales agents are super friendly and highly knowledgeable about the industry and will be happy to help you. Another option is to visit our FAQ page and you will find some other questions and answers there that will be very helpful. Thank you for choosing Easy Dumpster Rental.
It's that easy!
Call Our Team Now
1-888-792-7833