Dumpster Rental in Scituate, RI
Get Super Savings On Renting a Rolloff Rental
Click To Call 1-888-792-7833Click For Email Quote
How We Provide Superior Services In Sciuate:
A lot of companies claim that they offer the best services. But do they back these promises up? We do and we guarantee our services to be on time every time so you don't waste your time.
Same day service is available in Sciuate and surrounding cities
Headache and hassle free service when you order from us
Read stories of our very happy and loyal clientele
We provide free quotes and consultations. No strings attached
Request an online dumpster pick up
Dumpster Rental Pricing in Scituate is Based on Many Different Factors
To Receive The Lowest Pricing, Call For A Customized Quote Now 1-888-792-7833
Save With Us Between $10 And $85 On Your Dumpster Rental Cost:
If you looking for a company that will give you the lowest prices around and fantastic customer service, then look no further than Easy Dumpster Rental. Absolutely no one can compete with our costs.
Simple to use container weight calculator
Years of experience with industry connections enable us to provide low prices
Flat rate pricing model with no hidden fees
We are a very transparent company when it comes to our fee structure. Call and discover how we determine our costs
All of our fees are made upfront with no backend charges
Earn Up To $50 | Share / Like Below
Click To Call 1-888-792-7833
Click For Email Quote
10 Yard Dumpster (2 TONS) 4,000LBS
Dumpster Calculator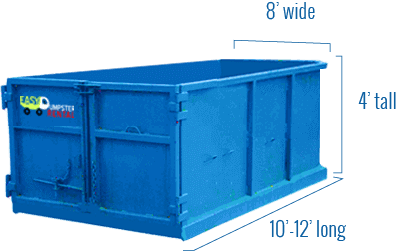 Easy Dumpster Rental
Dumpster Dimensions
4' High, 8' Wide, 10-12' Long
Ideal For
Smaller clean out or construction projects
One car garage cleanups
Bathroom remodeling
Smaller painless placement and loading.
10 yard rolloff will accommodate around 39 Brute Trash Cans(44gal) of trash. This is our tiniest bin
30-yd roll-off = 270 wheelbarrows = 12 pickups = 117 Brute Trash Cans(44gal)
20 Yard Dumpster (3 TONS) 6,000LBS
Dumpster Calculator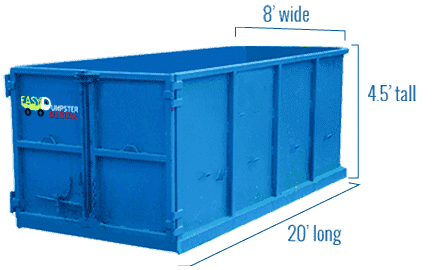 Easy Dumpster Rental
Dumpster Dimensions
4.5' High, 8' Wide, 20' Long
Ideal For
Bigger garage cleanouts
heating & air conditioning
house remodeling
carpeting, roofing
minor landscaping
20 yard rolloff will accommodate around 78 Brute Trash Cans(44gal) of trash. This is our most common residential bin
30 Yard Dumpster (4 TONS) 8,000LBS
Dumpster Calculator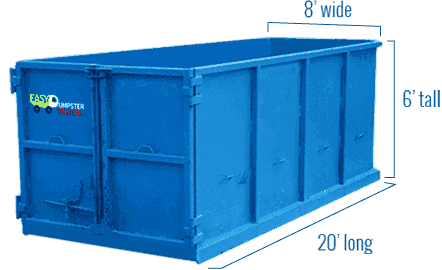 Easy Dumpster Rental
Dumpster Dimensions
6' High, 8' Wide, 20' Long
Ideal For
Major Construction
Remodeling Projects
Demolition
Tree Removal
Large Landscaping
30 yard rolloff will accommodate around 117 Brute Trash Cans(44gal) of trash. This is our most common contractors bin
40 Yard Dumpster (5 TONS) 10,000LBS
Dumpster Calculator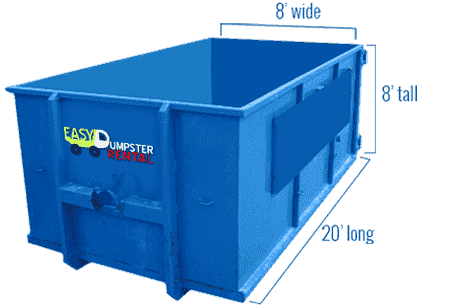 Easy Dumpster Rental
Dumpster Dimensions
8' High, 8' Wide, 20' Long
Ideal For
Metal Recycling
Major Remodeling Projects
New Construction Projects
Commercial Building Clean-Outs
Apartment Buildings Roof Replacement
Large Volume Cardboard, Paper Disposal
40 yard rolloff will accommodate around 156 Brute Trash Cans(44gal) of trash. This is our largest bin
Landfill Location in Scituate, RI
Scituate is one of the towns in Providence County. Waste generated by town residents is taken to the Central Landfill for disposal. The landfill offers services to 97 percent of the individuals living in the State of Rhode Island. Every day, around 2,500 tons of trash are delivered to the landfill.
Rhode Island Resource Recovery
65 Shun Pike
Johnston RI, 02919
401-942-1430
Opening Hours
Monday through Friday from 6:00 a.m. to 3:45 p.m.
Saturday from 6:00 a.m. to 12:00 p.m.
Recycling In Scituate, RI
The town of Scituate, RI Public Works Department urges residents to recycled in order to reduce the amount of waste entering the landfill. Residents can contact 647-3366 to learn more about acquiring recycling bins that should be placed at the curb for collection. For additional information regarding recycling in North Scituate click here.
Recyclables:

Paper and Paperboard
Steel Cans
Newspaper
Plastics bottles
Aluminum Cans
Magazines
Corrugated Cardboard
Glass bottles
Non-Recyclables:
Pet food
Charcoal bags
Fertilizer bags
Wrapping paper
Frozen food container boxes
Carbon paper
Photographs
Facial tissues
Plates
Napkins
Waxed paper
Paper towels
Hazardous Waste Disposal
Household hazardous waste can be disposed of at the Rhode Island Resource Recovery, located at 65 Shun Pike, Johnston RI, 02919 but only on Saturdays by appointment 6:00 a.m. to 12:00 p.m. for more information contact Rhode Island Resource Recovery at 942.1430 ext. 241 or visit their website.
Examples of hazardous waste accepted are listed below:

Pesticides
Herbicides
Gasoline
Oil-Based Paints
Household Solvents
Automotive fluids
Pool chemicals
Yard Waste Disposal
The Town of Scituate accepts yard waste at the Department of Public Works Complex, Trimtown Road, North Scituate, Monday to Friday 7:00 to 3:30 pm and on Saturdays, 9am to 12:00. Leaves, branches, grass clippings, twigs and other yard debris are accepted. Branches should be less than 2″ in diameter.
Bulk Waste Disposal
Contact the Public Works Department for information on Bulk Waste Collection.
Scituate Public Works Department
Robert Dexter, Director
647-3366
Monday – Friday: 7:00am to 3:30pm
Interesting Facts About Sciuate
Sciuate, which is an Indian word for "cold river," was founded in 1710 and has a current population close to 11,000 residents, Every Columbus Day the town has an arts festival with over 200,000 visitors. The city also has many historical sites among them being the Andrews-Luther Farm circa 1768 and The Amos Cooke house built around 1812. Some well know figures from Sciuate include Ezekiel Cornell, a delegate to the Continental Congress, sculptor Armand LaMontagne and Revolutionary War General William West.
The Two Type Of Landfill Categories
The Environmental Protection Agency or as more commonly known as The EPA, strictly regulates and monitors new construction of landfills and constantly monitors them for safety issues. This monitoring process can continue up to 30 years after a landfill has run its course. This to protect the public, the eco-system and to ensure that there is no ground seepage of pollutants. And they keep a watchful eye on any potential air pollution and they closely watch for air pollutants.
Generally speaking, there are 2 types of landfills. Subtitle D and Subtitle C. We will discuss both of these types in this article.
Subtitle D Landfills are under the auspices of state and city governments to ensure that these sites are properly regulated. They handle mostly residential trash and nonhazardous waste. The landfills that fall under this category include:
Municipal Solid Waste Landfills which process your household trash.
Bioreactor Landfills that break down organic waste. Industrial Landfills that deal with commercial waste. Construction and Demolition Landfills which handle debris such as concrete and metals. And finally, Coal Combustion Residual landfills which deal with the disposal of coal residues.
Subtitle C Landfills oversee the handling of hazardous waste materials. The regulations they cover include transportation, treatment, and disposal of these harmful materials. Hazardous waste landfills are strictly limited to handling hazardous waste. The Resource Conservation and Recovery Act is the law in which the EPA developed to ensure safe handling of all hazardous and nonhazardous materials.
Simply stated, landfills are made up of 4 components:
A bottom liner
Leachate collection system,
A cover or type of tarp
Natural hydrogeologic setting.
The aim of these components is to have safeguards in place to protect the wastes from interacting with the surrounding environment and the underground water. Each of these above-mentioned components have their limitations but that is not the focus of this article.
The EPA is doing everything humanly possible with current advances in engineering to help protect us from pollution. Without safe drinking water, we would have an environmental catastrophe.
Just about all 4,000 counties in America have a landfill so it is very important that our landfills are being carefully monitored. And it is somewhat comforting that the government is taking an active role in the ongoing management and operations of the landfill industry.
Remember To Recycle
Another thing we must consider is the importance of recycling. Recycling greatly reduces the need to use our landfills. There are some people who feel that we are running out of landfill space but this is a highly debatable issue.
And most people quite frankly, don't want a landfill in their backyard. In addition, it can cost into the millions of dollars to get a landfill permitted and 5-7 years to get it up and running.
Over 70% of all waste that goes to a landfill could actually be recycled. That is astonishing and is an indictment against how much Americans really do or care about the importance of recycling. Recycling is such a simple task to do.
Must cities offer single-stream recycling and/or curbside pick up for your recyclables. It couldn't be easier. It is critical and incumbent on all of us to recycle. Recycling can be a positive force in our society for the following reasons:
Saves on energy costs
There would be a lessening of mining for raw materials
Creates hundreds of thousands of job each year
Pumps millions of dollars into our economy.
And Easy Dumpster Rental can be of service to you when it comes to recycling. We offer dumpster-bins in a variety of sizes to help you reduce the unused stuff that can be put to better use by dropping these goods off at a recycling center.
It's that easy!
Call Our Team Now
1-888-792-7833