Dumpster Rental in Hoboken, NJ
Get Huge Savings On Renting Rolloff Here
Click To Call 1-888-792-7833Click For Email Quote
How We Can Provide Excellent Bin Service In Hoboken:
Giving outstanding customer service day in and day out is how we separate ourselves form the competition. When you call you can rest assured that you will be dealing with a highly professional company.
Read stories of our very happy customers who just love our service
You are our number one priority and you will be treated with respect
Get an open-top waste container quote online faster than a bullet train
We provide dumpsters for residential debris and recycling
Same day service available in Hoboken and close by cities
Dumpster Rental Pricing in Hoboken is Based on Many Different Factors
To Receive The Lowest Pricing, Call For A Customized Quote Now 1-888-792-7833
Save With Us Between $10 And $80 On Your Container Rental Cost:
Easy Dumpster Rental has not only survived this recession we have flourished. Keeping our costs low has been appreciated by our customers during this difficult period for us all. We are the low price leader.
We will match or beat any of our competitors prices hands down
A simple to use rolloff weight calculator to insure great prices
Our charges are always made upfront so you don't have to worry about added fees
Flat rate pricing model to help keep costs low and you happy
Pick up your cell and contact us now for the lowest prices in the industry
Earn Up To $50 | Share / Like Below
Click To Call 1-888-792-7833
Click For Email Quote
10 Yard Dumpster (2 TONS) 4,000LBS
Dumpster Calculator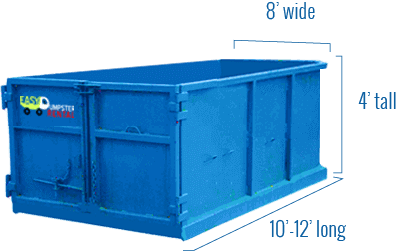 Easy Dumpster Rental
20 Yard Dumpster (3 TONS) 6,000LBS
Dumpster Calculator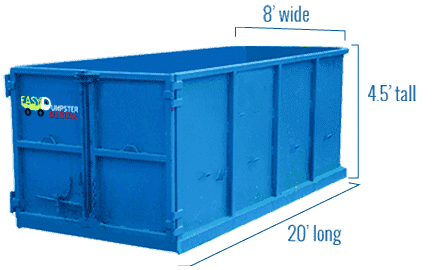 Easy Dumpster Rental
30 Yard Dumpster (4 TONS) 8,000LBS
Dumpster Calculator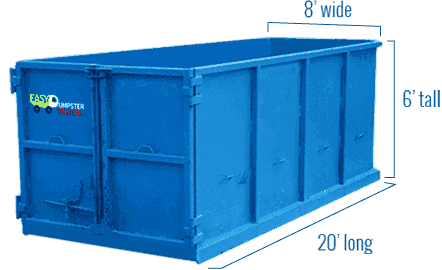 Easy Dumpster Rental
40 Yard Dumpster (5 TONS) 10,000LBS
Dumpster Calculator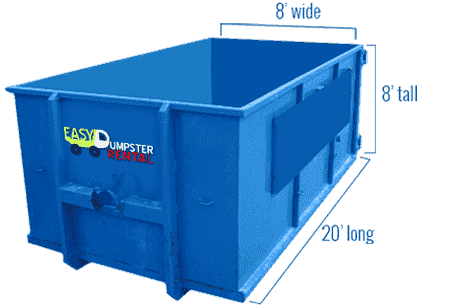 Easy Dumpster Rental
Landfill Location Hoboken, NJ
Hoboken is a city that is located in Hudson County in the state of New Jersey. The city's Environmental Services Department is responsible for providing residents with convenient curbside trash collection services.
Hoboken Environmental Services Department
94 Washington St.
Hoboken, NJ 07030
(201) 420-2049
Hours:
Monday – Friday: 9:00 am – 4:00 pm
Residents who wish to find out more about their specific trash collection schedule or want to find out where they can drop of trash themselves, should contact the city's Environmental Services Department.
Recycling In Hoboken
The city's Environmental Services Department also provides curbside recycling collection services in addition to the aforementioned curbside trash collection services.
However, the city also operates a Recycling Drop Off Center where residents can dispose of recyclables that they may have outside of their normal recycling collection schedule.
Hoboken Environmental Services Department – Recycling Drop-Off Center
256 Observer Highway
Hoboken, NJ 07030
(201) 420-2277
Opening Hours:
Monday – Friday: 9:00 am – 4:00 pm
Saturday: 9:00 am – 12:00 pm
The Hoboken Environmental Services Department's Recycling Drop-Off Center accepts the following recyclables from Hoboken residents.

Paper
Glass
Antifreeze
Plastic
Tin
Aluminum
Cardboard
Lead Acid Batteries
Motor Oil
Electronics
Furniture
Metal Appliances
Other Interesting Facts About Hoboken
Hoboken is on the Hudson River just a 10-minute PATH ride to Manhattan. The town is basically two mile square in shape packed with condos, row homes, and restaurants on Washington Street, the main area for all of Hoboken's entertainment. The city was incorporated in 1849 with a population of 50,000 residents. Hoboken is considered the birthplace of Baseball. It is also home to Carlo's Bakery which is been made famous by it's popular TV show called "Cake Boss." The oldest technological school in America, Stevens Institute of Technology is located here. It is also the headquarters for the publishing house, John Wiley & Sons. Some very famous people from the city include its most notable son, Frank Sinatra. The great photographer, Alfred Stieglitz, and world renown biologist and researcher into sexuality, Alfred Kinsey.
Household Hazardous Waste
The Hoboken Environmental Services Department does not deal with the disposal of household hazardous waste. However, like other cities in Hudson County, residents from Hoboken are eligible to make use of the numerous household hazardous waste collection events that are sponsored by the Hudson County Improvement Authority.
Hoboken residents who require more information on the items that are accepted at these events, as well as the dates of these events; should visit here.
Hudson County Improvement Authority
830 Bergen Avenue, 9th Fl
Jersey City, New Jersey 07306
(201) 324-6222
Yard Waste
Yard waste (such as leaves, grass, branches, etc.) is collected from residents intermittently. However, the Hoboken Environmental Services Department's Recycling Drop-Off Center also serves as a location where residents can drop off any and all yard waste that they have.
How We Price Our Rolloffs
At Easy Dumpster Rental we endeavor to be as transparent as possible to open up our pricing model so you, the customer, knows what they are getting for their buck. They are basically 4 pieces to the puzzle and we will lay out our pricing model below so you will have a better understanding of how we come to our cost structure.
Four main components  which are factored into our dumpster rental costs:
A) Landfill Cost
The price for hauling away of waste material and debris at a landfill  varies between each city, county and state. Therefore the cost for dumping waste in Hoboken may be higher or lower than of Newark. This comes into play when determining your bin rental cost. Easy Dumpster Rental will never charge extra for landfill fees unless you go over the allowed weight or dispose of hazardous materials. By the way, it is strictly prohibited by The EPA for a rolloff company to transport hazardous waste and heavy fines will be imposed to the guilty customer. So be extra careful and be aware what constitutes a hazardous waste.
B) Debris Type
The category of waste materials that you plan of disposing can impact the rental cost of your container. Waste disposal companies are required to send debris collected to specific locations and some debris can be disposed of certain recycling facilities at a lower rate. Fees for dumping debris are typically lower for materials that are recyclable as opposed to hazardous and non-recyclable materials.
 C) Debris Weight
The volume of the waste material that you are disposing of will affect the size of the rental dumpster as well as the dumpster size used by haulers. Generally, there are four main dumpster sizes: 10-yard, 20-yard, 30-yard, 40-yard. Of course, there are other handy bin sizes in between but they are not always at hand in every city. An easy rule of thumb, the greater the size, the higher the starting cost. Don't get caught in the trap of ordering a larger dumpster for peace of mind where you can mistakenly get by ordering a rolloff that is way to big for your particular project. This is why we highly recommend taking to a sales rep first and he/she will be able to tell you exactly what size you need. And to help us to that end, we utilize an easy to use dumpster weight calculator to help you make that decision.
D) Rental Period
Dumpsters of all sizes typically come with 7-day or 14-day dumpster rental periods. Years of experience gives us an edge to be super flexible on those periods. If you discover that you are going to need more time than you originally planned for, then please call our office before the rental period ends so we can work together to get a new rental contract worked out. Thus avoiding getting a late fee added to your invoice. We are here to serve you and make your project hassle-free. We want you to save money not lose it.
Call Our Team Now
1-888-792-7833