Dumpster Rental in West New York, NJ
Get Unprecedented Dumpster Rental Costs
Click To Call 1-888-792-7833Click For Email Quote
How We Offer Fabulous Rolloff Service In West New York:
People don't have time to waste in this hectic world. So that is why we guarantee on time delivery and pick upservices. If your time is important to you then you have come to the right company to get the job done fast.
No matter how much trash you have we have the bins to handle it
Over 15 years experience in the sanitation industry
Request an online pick up to speed up your day
Visit our FAQ page to get some insight into our company
Request an online quote and consultation for free
Dumpster Rental Pricing in West New York is Based on Many Factors
To Receive The Lowest Pricing, Call For A Customized Quote Now 1-888-792-7833
Save With Us Between $10 And $125 On Your Open-Top Waste Container Rental Cost:
We offer the lowest prices on canister rentals in the industry. No one can come close to beating our prices. And in addition, we use a flat rate pricing model so you know from the onset what you will be paying.
We never have hidden fees or surprise add-ons to our dumpster prices
Our fees are transparent. We believe you should know what you are paying for
We only hire the best sales reps with a super knowledge base of the industry
A simple to use container weight calculator
No headaches or hassles we you deal with us
Earn Up To $50 | Share / Like Below
Click To Call 1-888-792-7833
Click For Email Quote
10 Yard Dumpster (2 TONS) 4,000LBS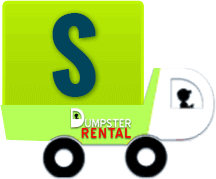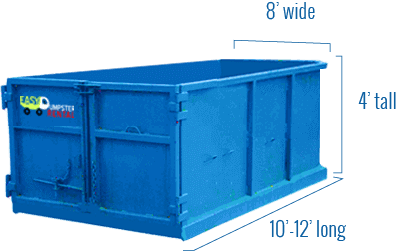 Easy Dumpster Rental
20 Yard Dumpster (3 TONS) 6,000LBS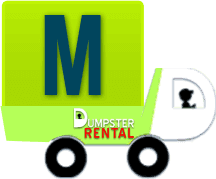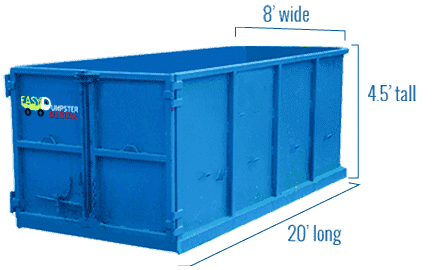 Easy Dumpster Rental
30 Yard Dumpster (4 TONS) 8,000LBS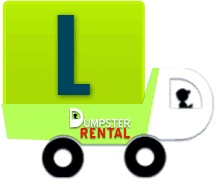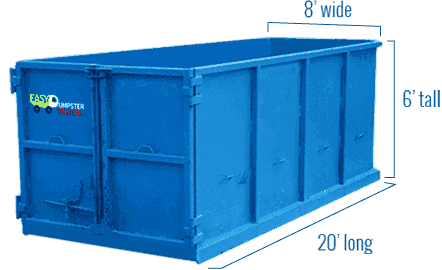 Easy Dumpster Rental
40 Yard Dumpster (5 TONS) 10,000LBS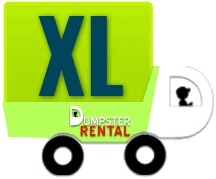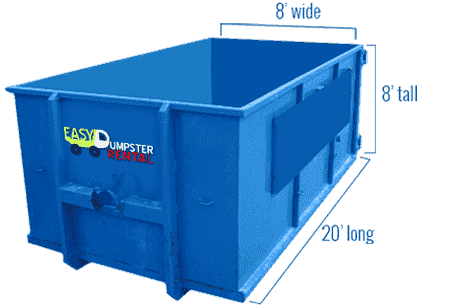 Easy Dumpster Rental
Landfill Location West New York, NJ
West New York is a city that is located in Hudson County is the state of New Jersey. The city provides residents with scheduled curbside garbage collection services that occur on a year round basis.
West New York is divided into three districts as it relates to scheduled curbside garbage collection for residents. The districts and their scheduled curbside garbage collection days are as follows:
District 1 – Monday & Thursday
District 2 – Tuesday & Friday
District 3 – Wednesday & Saturday
Residents who are in need of more information in the boundaries of the districts, as well as specific details about the collection process, can visit here.
The West New York Public Works Department can also be contacted with questions and concerns related to not only trash collection but also locations where trash can be dropped off by residents.
West New York Public Works Department
428 60th St # 10B
West New York, NJ 07093
(201) 295-5225
Recycling In West New York
Curbside recycling pickup services are also provided to residents of West New York alongside regular trash collection services. Recyclables are also collected on days specific to each district.
District 1 – Tuesday
District 2 – Monday (49th St. to 60th St.) & Wednesday (North of 60th St. to 67th St.)
District 3 – Thursday (63rd St. to 67th St.) & Friday (60th St. to 62nd St.)
The West New York Public Works Department can also be contacted with questions and concerns related to locations where recyclables can be dropped off by residents.
West New York Public Works Department
428 60th St # 10B
West New York, NJ 07093
(201) 295-5225
Household Hazardous Waste
The West New York Public Works Department does not personally deal with the disposal of household hazardous waste.
However, the Hudson County Improvement Authority does sponsor HHW collection events throughout all of Hudson County.
Hudson County Improvement Authority
830 Bergen Avenue, 9th Floor
Jersey City, New Jersey 07306
(201) 324-6222
More information on these events can be found here.
Yard Waste
Yard waste collection (leaves, branches, grass, etc.) is occasionally provided by the city. Residents who require more information are urged to contact the West New York Public Works Department.
Interesting Facts About West New York
West New York was incorporated in 1898 and was heavily populated by both German and Italian Americans. Later on a huge Cuban population began to move into the city and as a result got the nickname, "Havana on the Hudson." The town is situated on the Hudson River and art one time was the largest manufacturing hub for the textile industry. Some locals who have gained world wide fame include the former heavyweight boxing champion of the world, James J. Braddock, whose life was depicted in the movie, "The Cinderella Man" directed by Ron Howard.  Best selling author Morton Freedgood, and conductor and composer, Walter Hendl.
The Classifications Of Landfills And The Value Of Recycling
Every citizen in America should be aware of the types of landfills in their county's or communities. We must demand that our local government officials along with the EPA monitor and insure that each landfill site is complying with government regulations. Landfills if not properly tended to can cause tremendous harm to our eco-systems including but not limiting to air and water pollution. Below we will offer up a short primer on the types of landfills for your edification. There are basically two designations of landfills; Subtitle D and Subtitle C. The modern landfill of today is not like the old smoldering dumps of yesterday. They are very high tech and have the capability to sell methane gas for electrical power and are strictly monitored for leachates they may slip into our underground water systems. Which would be devastating for our drinking water and the recreational use of our lakes, rivers, and streams. As a matter of fact, the EPA enforces landfills to be monitored for up to 30 years after they are shut down to protect these types of calamities from occurring and destroying our environment.
Subtitle D Landfills: Are the focal point of city and state governments to insure that these sites are properly governed and supervised for the handling of residential trash and nonhazardous waste. The landfills that fall under this subtitle include, Municipal Solid Waste Landfills which handles your household garbage. Bioreactor Landfills that break down organic waste. Industrial Landfills that treat commercial waste. Construction and Demolition Landfills handle debris such as concrete. And they also work with Coal Combustion Residual landfills that manage the disposal of coal residues.
Subtitle C Landfills: Supervise hazardous waste materials. Laws dictate the transportation, treatment, and disposal of these types of wastes. Hazardous waste landfills can only deal with hazardous materials. The Resource Conservation and Recovery Act is the law in which the EPA developed to insure safe and proper handling of all hazardous and nonhazardous materials.
Landfills are made up of 4 basic components:
Bottom liner which protects leachates from seeping into the ground
Leachate collection system controls the flow of liquids and funnels them to collection  sumps
A cover is a kind of tarp that goes over the top of the landfill
Natural hydrogeologic setting which a tightly formation of rocks to help prevent waste from escaping
The goal of these components is to have safeguards in place to protect the wastes from interacting with the surrounding eco-systems and the underground water. Each of these above mentioned components have their detractors and drawbacks but that is a discussion for another time.
The EPA is doing all that is  possible with current advances in engineering to help protect our fragile eco-systems.. Without safe drinking water we would have an environmental catastrophe. Just about all 4,000 counties in America have a landfill so it is very important that our landfills are being regulated and the government is keeping a close tabs on the ongoing management and operation of the landfill industry.
One Major Argument For The Benefits Of Recycling
The importance of recycling cannot be overstated. It is estimated that over 70% of all trash that currently is going to our landfills is actually materials that can be recycled. If we all would put a focused effort in to local recycling programs we could greatly reduce our reliance on landfills.
Though in some circles this is a debatable issue, we are in the living realm of the possibility of running out of space for landfills. By actively pursuing a course to emphasize the importance of recycling, one thing is absolutely certain, we can greatly reduce the need for more landfills. And coupled with the fact that no one wants a landfill in their backyard, its a win-win situation. So it is critical and incumbent on all of us to consider recycling.
And Easy Dumpster Rental can be of service to you when it comes to recycling. We offer dumpster-bins in a variety of sizes to help you reduce the unwanted materials that can be put to better use going to a recycling center rather than to the local dump. Call us and we will be more than happy to take your junk to the local recycling center.
It's that easy!
Call Our Team Now
1-888-792-7833