Dumpster Rental in Kearney, NJ
Get Considerable Savings on Rolloff Rental
Click To Call 1-888-792-7833Click For Email Quote
How We Offer Essential Container Service In Kearney:
When the project at hand demands only the best in customer service, then you need to turn the professionals at Easy Dumpster Rental. We hire only the highest skilled talent in the industry.
There is absolutely no job we can't handle and we have rental bins for every job
Inspired sales reps who are here to help you get the job done on time and under budget
Friendly, courteous staff who will swim with sharks if they need to please you
Same day service available in Kearney and surrounding towns
Request a container quote online to help save you some time
Dumpster Rental Pricing in Kearney is Based on Many Different Factors
To Receive The Lowest Pricing, Call For A Customized Quote Now 1-888-792-7833
Save With Us Between $10 And $120 On Your Dumpster Rental Cost:
Loyalty and integrity are our company motto. Building trust doesn't happen overnight but by working hard to earn your trust by keeping our promises. Without loyal customers we do not have business.
We offer the lowest bin prices in the industry and that is a guaranteed
Migraine free ordering process that will go off without a hitch
Time management is as important to us as it is to you. We pledge that your rolloff delivery will never be late
All of our costs are very transparent. You should know what you are paying for
Stop hesitating and call us ASAP and begin to save like never before
Earn Up To $50 | Share / Like Below
10 Yard Dumpster (2 TONS) 4,000LBS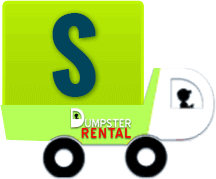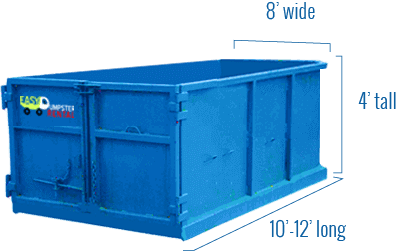 Easy Dumpster Rental
20 Yard Dumpster (3 TONS) 6,000LBS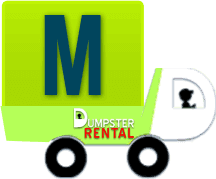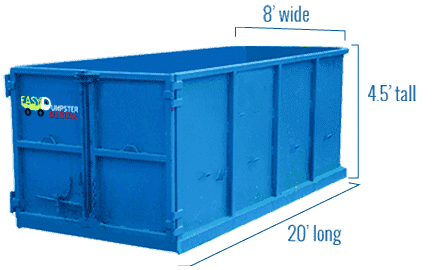 Easy Dumpster Rental
30 Yard Dumpster (4 TONS) 8,000LBS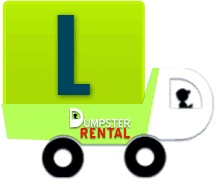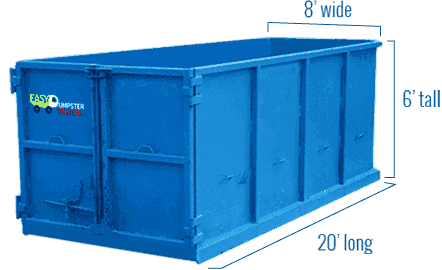 Easy Dumpster Rental
40 Yard Dumpster (5 TONS) 10,000LBS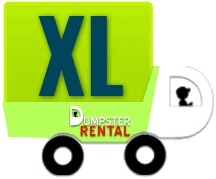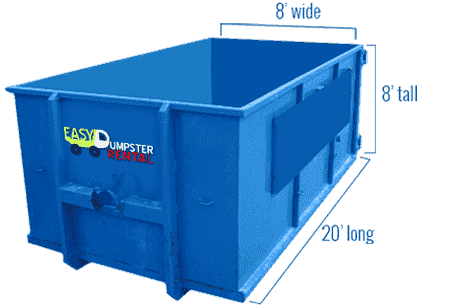 Easy Dumpster Rental
Landfill Location Kearny, NJ
The Keegan Landfill operates within Kearny and it provides residents with a safe location for trash drop off.
Keegan Landfill
437 Bergen Avenue
Kearny, NJ 07032
(201) 469-1700
Kearny is a town that is located in Hudson County in the state of New Jersey. As it relates to trash collection services, the Town of Kearny is separated into four different zones. Three of these four zones are designated for residential trash collection while only one is designated as a business district zone for trash collection.
The differences in these zones is not only attributed to their locations but also to the frequency at which trash is collected. The business district collection zone has trash collection on six days out of the week, while the three residential zones only have trash collection on two days out of the week.
Zone 1 (Residential) – Tuesday and Friday
Zone 2 (Residential) – Monday and Thursday
Zone 3 (Residential) – Wednesday and Saturday
Zone 4 (Business District) – Monday to Saturday
More specifics on the areas within the borders of each zone can be found here.
Recycling In Kearny Town
Recycling collection services are provided to all residents of Kearny in addition to their usual trash collection services. Recyclables are collected from each zone on their first trash collection day. More information on these services and their scheduling can be found here.
The Kearny Recycling Center serves as a central drop off point for recyclables that residents may want to dispose of outside of their scheduled collection days.
Kearny Recycling Center / Kearny Department of Public Works
357 Bergen Ave.
Kearny, NJ 07032
(201) 955-7400
Household Hazardous Waste
The Hudson County Improvement Authority sponsors numerous HHW collection events in Kearny and the rest of Hudson County.
Information on these events; including scheduled dates, items that are accepted, and items that are prohibited; can be found here.
Hudson County Improvement Authority
830 Bergen Avenue, 9th Fl
Jersey City, New Jersey 07306
(201) 324-6222
Yard Waste
Collection of leaves and other yard waste usually occurs in fall, between the months of October and December. Biodegradable bags can be purchased from the Kearny Department of Public Works.
Other Interesting Facts About Kearney
Kearney is located in Hudson County and was incorporated in 1867. Though the city has pre-revolutionary roots back to 1708. Standard Tool and Manufacturing is located here and sells most of its electronics to RCA. The Kearney Yards built cargo ships for World War One and war ship for World War Two. Some notable people from Kearney include comic book writer and artist for "Archie Comics." Jeffrey Klepacki, 3-time Olympic rower. Major League Baseball pitcher, Ed Halicki, who pitched a no hitter and Alex Webster who played football for the New York Giants.
The Types Of Landfills In America
The topic of landfills isn't a discussion that must people have sitting around the dinner table. Nonetheless, landfills play an important role in keeping our cities clean and safe and is worthy of discussion. There are approximately 3,000 modern landfills which is the about the same number of counties in The U.S. So roughly there is a landfill for every county.
Landfills are engineered to be a site for trash, other materials and waste products, or solid waste. They are built in such a way to protect the environment from harmful substances that if not monitored could have devastating effects on our fragile eco-systems.
The landfills of yesteryear, or what used to be call dumps, are closed and regularly monitored by the EPA. The landfill of today are constantly being checked for groundwater contamination and gases that can be harmful to us and the the air. Landfills must have complex systems in place to keep us safe.
As an example, each landfill must meet stringent specifications on how they stop leachates from oozing into our underground water resources. Basically they are constructed with a top cover or layer of soil. Next is a geotextile layer, a leachate collection system, which is made up of some gravel to filter tiny bits of trash, then a plastic liner and lastly, a clay liner that stops any water that may have seeped through the plastic liner.
Generally speaking there are two broad categories of landfills:
Subtitle D which handle solid waste and Subtitle C.
Subtitle D landfills accepts nonhazardous and what is usually picked up at your curb. Also under Subtitle D you will find Industrial Landfills that deal with commercial solid waste. Bioreactor Landfills, which transforms organic waste. And Construction and Demolition landfills that handles waste from larger debris from the building trades. And finally, Coal Combustion Landfills. which eliminates coal residues.
Subtitle C landfills handle hazardous waste materials. The EPA has full authority and manage the generation, transport, treatment, and disposal of these very harmful materials. Below is a list of some common household hazardous waste:
Drain cleaners
Pool chemicals
Household insecticides
Paint thinners
Driveway sealers
Moth repellents
Antifreeze
The EPA's web site can give you a fuller list of household hazardous waste and also the governance of Subtitle C disposal laws.
Though it is against the law for companies like Easy Dumpster Rental to haul hazardous waste, we will gladly take your waste from projects you are doing around the home such as a bathroom remodel or if you are in the construction industry we can help you remove debris from bigger construction projects. We have dumpster-containers that can handle any size job you throw at us.
We have a best service guarantee and the lowest prices in Kearney. And we do have bin rentals for both the residential homeowner and construction rolloff-dumpsters. So if you want to work with a company that guarantees to be on time with both your delivery and pick up and keep your budget within your means then you owe it to yourself to call Easy Dumpster Rental. You will be glad you did.
It's that easy!
Call Our Team Now
1-888-792-7833