Dumpster Rental in Blaine, MN
Grab The Lowest Rolloff Rental Price Around
Click To Call 1-888-792-7833Click For Email Quote
Why We Offer Unique Roll Off Dumpster Service In Blaine:
Our greatest desire is that you have the best possible outcome when you rent a bin from us. That is why we put a premium on providing the best customer service that puts our competition to shame.
Get a container quote faster than France's TGV Rail
Hassle free service and always helpful sales team
A FAQ section to get the answers you are seeking
A wide variety of canister rental sizes
Same day service available in Blaine and surrounding communities
Dumpster Rental Pricing in Blaine is Based on Many Different Factors
To Receive The Lowest Pricing, Call For A Customized Quote Now 1-888-792-7833
Save With Us Between $10 And $80 On Your Dumpster Rental Cost:
We live in a world where people not only want instant results but the lowest prices possible. Well, we here at Easy Dumpster Rental understand this and we accomplish both conditions with ease.
Get renowned rolloff prices that will make you very happy
Delivery and disposal in one flat rate
All of our rates are the lowest you will find in Blaine
An easy to use dumpster weight calculator
Don't waste any more time. Call us ASAP and start saving
Earn Up To $50 | Share / Like Below
Click To Call 1-888-792-7833
Click For Email Quote
10 Yard Dumpster (2 TONS) 4,000LBS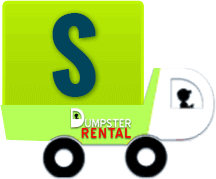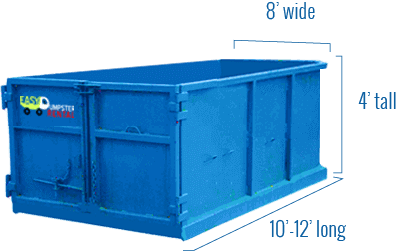 Easy Dumpster Rental
20 Yard Dumpster (3 TONS) 6,000LBS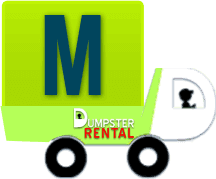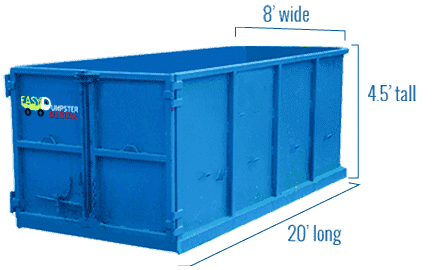 Easy Dumpster Rental
30 Yard Dumpster (4 TONS) 8,000LBS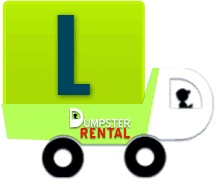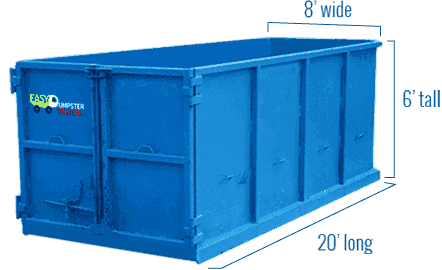 Easy Dumpster Rental
40 Yard Dumpster (5 TONS) 10,000LBS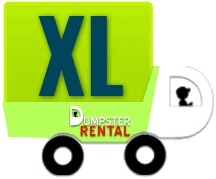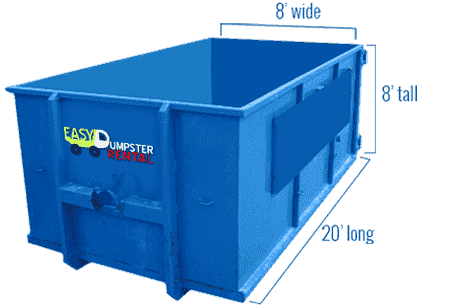 Easy Dumpster Rental
Landfill Location Blaine, MN
Blaine is a city that is located in Anoka County in the state of Minnesota. Residents can drop off their trash at the following locations:
Great River Energy Resource Processing Plant
10700 165th Avenue NW
Elk River, MN 55330
(763) 445-5846
Walters Recycling and Refuse, Inc. Transfer Station
10191 Xylite Street NE
Blaine, MN 55449
(763) 780-8464
Maple Grove Transfer Station
10633 89th Ave N
Maple Grove, MN  55369
(763) 425-3736
The Blaine Public Works Department does not directly provide residents of the city with curbside trash collection services. Instead, the city has partnered with a third party hauler to handle most of the residential collection services.
Blaine Public Works Department
1801 – 101st Avenue NE
Blaine, MN 55449
(763) 785-6165
Monday to Friday; 7:00 AM to 3:00 PM
Recycling In Blaine
The Blaine Public Works Department also does not directly provide residents of the city with curbside recycling collection services. Instead, the city has partnered with a third-party hauler to handle this service.
Blaine Monthly Recycling Drop-off
9150 Central Ave (parking lot by Aquatore Park)
Open Hours:
3rd Saturday of each month – 10:00 AM to 2:00 PM (no holidays)
Household Hazardous Waste
Residents of Blaine are advised to pay a visit to the Anoka County Household Hazardous Waste Facility to dispose of their household hazardous waste free of charge.
Anoka County Household Hazardous Waste Facility
3230 101st Ave NE
Blaine, MN 55449
(763) 324-3400
April to October
Wednesday; 2:00 PM to 8:00 PM
Monday, Friday, and Saturday; 9:00 AM to 3:00 PM
November to March
Wednesday; 2:00 PM to 8:00 PM
Saturday; 9:00 AM to 3:00 PM
Yard Waste
Anoka County Parks & Community Services Department operates a compost site in Coon Rapids. Residents of Blaine can drop off any type of yard waste at this location.
Coon Rapids Compost Site
13285 Hanson Blvd NW
Coon Rapids, MN 55448
(763) 767-7964
Other Interesting Facts About Blaine
Blaine was founded in 1877 and has a population near 60,000 residents. Aveda, owned by Estee Lauder is the largest employer in Blaine. Globe University/Minnesota School of Business offers B.A.s, M.A.'s and Rasmussen College also has a branch campus here. The city is home to the National Sports Center that has 50 soccer fields and a couple of ice skating rinks.Some notable people from the area include 3 NHL players David Backes, Nick Bjugstad, and Matt Hendricks.
How Landfills Are Categorized By The EPA
There are two types of landfills according to The EPA, Subtitle D, and Subtitle C.
Subtitle D Landfills primarily deal with Municipal Solid Waste, your typical garbage you toss out each and every day. And, Subtitle D landfills that deal with the degrading of organic waste which is food, lawn clippings, and garden materials. Other items in this category include cardboard, timber, and paper.  Demolition and construction debris are also handled under this category. Commercial waste is dealt with by Industrial landfills. And any residue from coal falls under this class of landfill.
Hazardous waste disposal management is under Subtitle C landfills. Under this classification, The EPA regulates the transportation and disposal of hazardous waste materials. These types of materials are highly regulated because of the potential threat that these materials pose to human health and the environment. Companies like Easy Dumpster Rental are prohibited by law to carry hazardous waste. You should check with your local government officials on how you should properly dispose of these risky wastes. Subtitle C landfills are equipped to handle hazardous materials so they do not leach into our underground water. And air pollution is greatly curtailed This is why it is of the utmost urgency that you are aware of the makeup of hazardous waste and the proper way it should be handled. Typically, hazardous waste typically exhibits the following 4 types of characteristics.
Ignitability: Anything that catches fire
Corrosive Properties: Battery acid is a great example of this property
Toxicity: Wastes that are detrimental to the body by being ingested or absorbed
Reactivity: Waste that can explode under certain conditions including fumes, gases, and vapors
It is important to be careful what you are putting into your trash bin so that we can protect our environment from devastating results. If you are not sure or unclear on what constitutes a hazardous waste contact your Regional EPA Office and they will be happy to help.
We Can Help You With Your Debris Removal Needs
Though Easy Dumpster Rental doesn't deal with the hazardous waste we can be helpful in aiding you to dispose of debris from residential rehabs or construction tear downs. We offer a wide variety of container bins that can handle any size job. It is easy to order from us and we can have a quote in just a few minutes.
After that, all you have to do is to let us know what day you would like delivery. After your bin unit is filled just give us a call or go online to request a pickup. We guarantee all of our can unit rental services. We are the fastest growing dumpster rental company in America and you will be overjoyed that you called us first for all of your disposal needs.
It's that easy!
Call Our Team Now
1-888-792-7833