Dumpster Rental in Beaumont, Texas
We're The First Choice For Low Rolloff Cost
Click To Call 1-888-792-7833Click For Email Quote
Why We Offer Exceptional Roll Off Dumpster Service In Beaumont:
There isn't a dumpster company on the face of the earth that can match our service and low canister rental costs. We are the leaders in the dumpster industry in providing the absolute best customer service.
Transparent pricing model that will amaze you and keep you coming back time and time again
Cheerful, helpful sales team who will look out for your best interests. You are always first
We have a multitude of dumpster rental sizes for any project you can imagine
Residential dumpsters are available to help you around the house or condo
Sales representatives who know their business and will help you make your work so much easier
Dumpster Rental Pricing in Beaumont is Based on Many Different Factors
To Receive The Lowest Pricing, Call For A Customized Quote Now 1-888-792-7833
Save With Us Between $10 And $100 On Your Dumpster-Bin Rental Cost:
We promise that you will have a wonderful experience when you call us for your dumpster rental needs. With over 15 years renting rolloffs we have the knowledge base to help you navigate through any issues.
We have rented over 100,000 dumpsters and customers return to us like the Swallows of Capistrano
Easy to use dumpster weight calculator to insure accurate pricing and the correct size bin
FAQ page to help you with any questions you may have about our company and policies
Get a quote so fast it will make your head spin. Online quotes for your convenience
No hidden fees and no headaches when you deal with us. Just smooth sailing
Earn Up To $50 | Share / Like Below
10 Yard Dumpster (2 TONS) 4,000LBS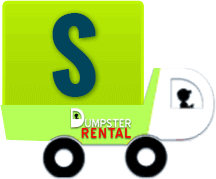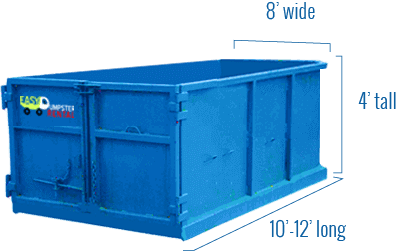 Easy Dumpster Rental
20 Yard Dumpster (3 TONS) 6,000LBS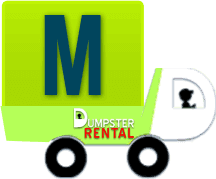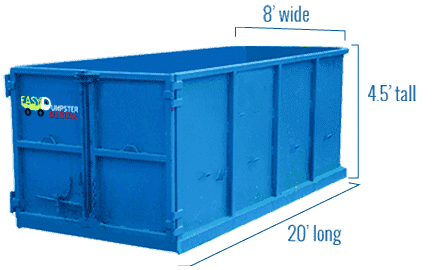 Easy Dumpster Rental
30 Yard Dumpster (4 TONS) 8,000LBS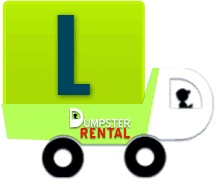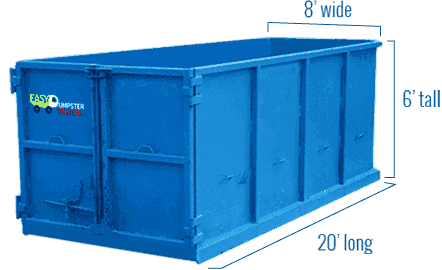 Easy Dumpster Rental
40 Yard Dumpster (5 TONS) 10,000LBS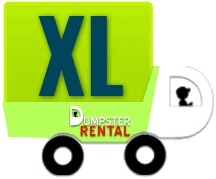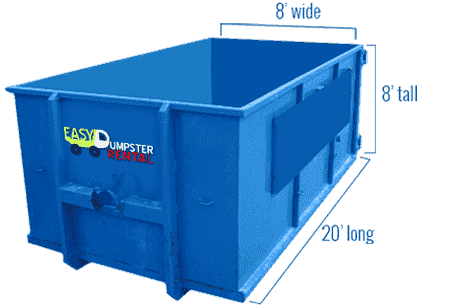 Easy Dumpster Rental
Landfill Location In Beaumont, TX
Beaumont is a city in Texas and the county seat of Jefferson County. Residents with a current utility bill or valid driver's license can deliver household waste to the city's landfill free of cost. The landfill's location is listed below.
5895 Lafin Dr
Beaumont, TX 77705
409-842-5686
Hours
Monday through Friday: 7 a.m. to 5 p.m
Saturdays: 8 a.m. to 1 p.m.
Call 409-842-5686 for information on items accepted at the site.
The Importance and Benefits of Recycling
Beaumont was settled in 1835 and has a population of around 120,000 residents. The city lies about 90 miles from Houston on the Neches River. Conn's Appliances, Inc. is the largest employer with 4,600 employees and ExxonMobile also has a sizable presence with almost 2,000 employees. Beaumont has about a dozen museums and many historical buildings. The city also has a ballet company, The Beaumont Civic Ballet and The Symphony of Southeast Texas. The great baseball player Frank Robinson is from Beaumont and so is the astronaut Robert Crippen, who was the first pilot of the Space Shuttle. Easy Dumpster Rental can't put you in orbit, but we can shuttle your trash to a landfill or recycling center.
The importance of recycling cannot be over emphasized. There are approximately 4,000 landfills in America almost one for each county in our country. Landfill space is becoming limited and trust us you don't want a landfill in your backyard. Recycling reduces the amount of landfill space. For example, 1/3 of all dumps in the U.S. are filled with packaging material. And each year on average every American throws out 1,000 pounds of organic garbage that can be composted. We throw out enough aluminum to rebuilt our commercial air fleet 4 times over. A single can of motor oil if not disposed of properly can contaminate 2 million gallons of water. We use 2 million plastic bottles an hour and most of them are not recycled. Recycling can greatly reduce the amount of landfill space if we would just take the initiative to use the resources that are made by most cities to help you recycle. There probably isn't a city in America that doesn't supply curbside recycling bins.
Our government officials make it so simple to recycle. Most cities and counties have recycling centers and there is a Goodwill store in most cities. They are more than happy to take your stuff that you have no use for anymore. The average American discards over 7 pounds of garbage everyday. This waste goes to our landfills and puts huge burdens on our dumps which directly effects the environment. If we began to reuse paper, plastics, and glass we can accomplish two things. We can greatly reduce energy costs and lessen production expenditures. Recycling also helps the environment by reducing air and water pollution and conserves energy. The economic benefits of recycling are tremendous. The recycling industry contributes billions of dollars in revenue to our country and creates hundreds of thousands of jobs.
In California for example, in one year, the state created 85,000 jobs and over 14 billion dollars in annual revenues. That is a lot of money and we can never have enough jobs.  It's easy to see how important and vital recycling is to the health of our country. And everyone must do their part to make recycling a successful endeavor. Our planet is very fragile and we all need to pitch in to keep our environment safe and vibrant for future generations. Easy Dumpster Rental is in the recycling business. We provide dumpster bins that are ideal for your recycling needs. By using one of our dumpsters we can help you save time and money. We will drop off a bin to your location and after it is filled we will pick it up and take it to a recycling center for you. It's a lot cheaper and easier than renting a pick up truck. So remember us when you have a need for a dumpster, we offer the lowest rates and the best customer service in Beaumont.
Recycling In Beaumont Texas
The City of Beaumont provides residents with curbside recycling in partnership with Waste Management Golden Triangle. Residents can access the services by calling 409-842-0065. Recycling bins are available for $10 and the services also attracts a monthly fee of $10.
Accepted items include:
Newspaper
Tin and aluminum
Plastics (#1 through #7)
Office paper
Cardboard
Glass
Items that are not accepted include:
Plastic toys
Batteries
Hazardous product containers
Metal hangers
Flower pots
Light bulbs
Frozen food bags
Hazardous Waste In Beaumont
The South East Texas Regional Planning Commission arranges household hazardous waste events for residents to dispose of chemicals and other HHW. Contact SETRPC at 409-899-8444, Ext. 7520 for information on upcoming events.
Items accepted include:
Batteries
Pool chemicals
Paint and varnish
Solvents
Used oil and filters
Pesticides and fertilizers
Auto fluids
Mercury
Yard Waste Beaumont
The city provides curbside collection of small amounts of yard waste. Yard waste such as leaves and grass can be placed in 32 gallon containers no more than 50 pounds and placed curbside for collection. Containers should be no more than 3 feet away from regular garbage can on collection day.
Bulk Waste
Bulk waste is collected weekly on regular pickup days. This service is not available for residents living in apartments. Individuals living in apartment can deliver bulk waste to the landfill.
It's that easy!
Call Our Team Now
1-888-792-7833