Dumpster Rental in Cypress, TX
Get Superb Bin-Rental Cost & Peerless Service
How We Provide Winning Roll Off Service In Cypress:
We feel that giving our clients less than magnificent customer service day in and day out we have failed the consumer. So, each day we come to work with the attitude that everyone deserves the best we can give.
Available same day service in Cypress and surrounding communities.
Choose from our 10, 15, 20, 30, and 40 cubic yard front load units.
We have rolloff conversion gadget which is up for a Fields Medal in math.
Rent any container for as long as you need it.
Get a bin quote fast than the Road Runner. Beep! Beep!
Dumpster Rental Pricing in Cypress is Based on Many Different Factors
To Receive The Lowest Pricing, Call For A Customized Quote Now 1-888-792-7833
Save A Bundle With Us Up To $140 On Your Container Rental Cost:
There is nothing sweeter when you know that you are getting the best possible price on your rolloff rental. This is why more businesses and homeowners turn to us than any other company.
Speedy Service and Super Savings in Cypress.
Our canister load calculator runs supreme in Texas.
We have low-cost containers that come at wholesale flat rates.
Receive the very best rolloff prices in Cypress.
We guarantee low rates on all of our dumpsters.
Earn Up To $50 | Share / Like Below
Click To Call 1-888-792-7833
Click For Email Quote
10 Yard Dumpster (2 TONS) 4,000LBS
Dumpster Calculator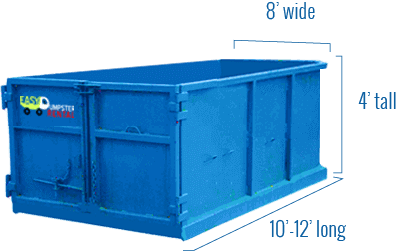 Easy Dumpster Rental
20 Yard Dumpster (3 TONS) 6,000LBS
Dumpster Calculator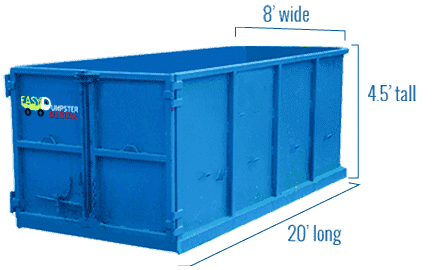 Easy Dumpster Rental
30 Yard Dumpster (4 TONS) 8,000LBS
Dumpster Calculator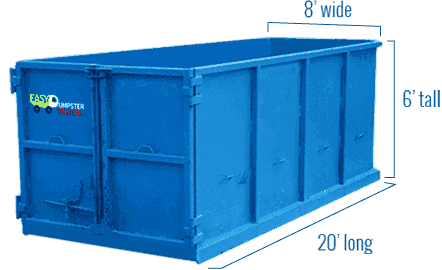 Easy Dumpster Rental
40 Yard Dumpster (5 TONS) 10,000LBS
Dumpster Calculator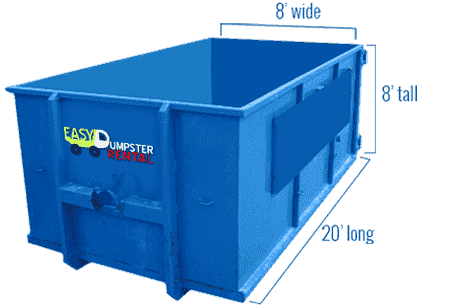 Easy Dumpster Rental
Recycling, Waste Disposal and Breathtaking Facts About Cypress, TX
German settlers came to the area in the 1840's. Today Cypress has a total population of 175,000 residents. It is not only one of the largest of Houston's suburbs but one of the wealthiest as well. There is one college, Lone Star College-CyFair. Sysco, the food distribution company is headquartered here. Some famous people from the area include Mary Kay Ash of Mary Kay Cosmetics fame, Olympic swimming sensation Cammile Adams, and country singer James Bonamy.
Recycling and Landfill
The city of Cypress is located in Harris County Texas. Since it is an unincorporated area the town doesn't offer recycling services for its residents. Citizens are encouraged to take advantage of one of the many recycling centers in Harris County.
Ellington Airport/Clear Lake Recycling Center
246 Loop Road
Houston, TX 77034
Phone: (713) 837-0311
Open Times
Monday-Sunday 8-8
Accepted Waste:
Ad inserts
Catalogs
Magazines
Tin cans
Telephone books
Unacceptable Materials:
Anti-freeze
Batteries
Fluorescent bulbs
Paint
Medical waste
Save A Ton Of Money On Waste Removal With A Container Rental
No one likes paying more for a service period. That is why using Easy Dumpster Rental will be the most economical way to get trash to a landfill than any other mode of transportation. Our rates are the cheapest in all of the Lone Star State by a million miles. Because we have been in business for so long (Over 16 years) we have made valuable industry connections and as result of the volume we do, we receive discounts on our bin rentals. In addition, we also are able to get our bins delivered and picked up on time.
There are other ways to get your debris to a dump or recycling center but they are costly and time-consuming alternatives. Take a large pick up truck for example. They have 3 major downsides. One, they cannot carry as much waste as an open top rollaway. The max a pick up truck can carry is 2 cubic yards. That is not a lot of cargo space. Our smallest container can handle up to 10 cubic yards.
Two, if you have more than 10 cubic yards of debris to haul away you are going to make four or five trips minimum to a landfill wasting much of your day driving back and forth.
Three, you have to go through the hassle of renting a truck and all the addon costs that are inherent to renting.
When you rent a dumpster from us we do all the work for you. We drop off the rolloff at your leisure, pick it up and take to the landfill for you. Saving you a ton of money and your valuable time.
One Other Dumpster Rental Option
The other option to a dumpster rental is to buy a Bagster. A baster is a bag that can hold up to 3 cubic yards. You must go to a hardware store to purchase it for around $40. And if you miscalculate the amount of waste you have you may need to go and buy a few more. This bag like a pick up truck is super limited on how much debris you fill wit with. Great for cleaning out a tiny bathroom but that is about all.
And once you are ready for a pick up you call the company and they come out when they are ready at $250 a pick up. One more thing, if you need to put in something heavy like concrete the capacity is reduced from 3 cubic yards to one. This is not a great solution if you have heavy materials to move or over 3 cubic yards. So make the intelligent and most practical choice, rent from Easy Dumpster Rental.
It's that easy!
Call Our Team Now
1-888-792-7833