Dumpster Rental in Marietta, Georgia
Get The Trash Rolloff at The Cheapest Rate!
Click To Call 1-888-792-7833Click For Email Quote
Renting a dumpster from us will make a cost-effective investment
Renting a dumpster shouldn't be a burden. And it's not when you rent from EasyDumpsterRental. Quick and easy is our motto!
Our straightforward ordering  process will put a smile on your face
Uncomplicated and effortless process
Plenty of bin sizes to choose from
Our customers keep coming back. Why? We mean what we say
Renting from us a cinch
Dumpster Rental Pricing in Marietta is Based on Many Different Factors
To Receive The Lowest Pricing, Call For A Customized Quote Now 1-888-792-7833
Call us now and save up to $75:
We keep our customers coming back. Why? Because we mean it when we say that you will save money when renting a dumpster from us.
Be penny wise and pound foolish
Transparent pricing mode
Our calculator will ensure you get the right bin for the right price
Don't waste your time – contact us now for the lowest quote
Act now and save, save, save
Earn Up To $75 | Share / Like Below
10 Yard Dumpster (2 TONS) 4,000LBS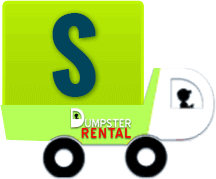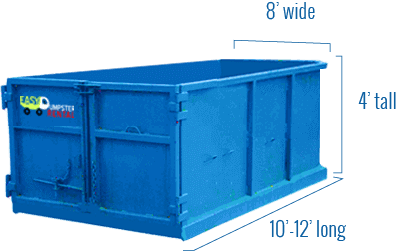 Easy Dumpster Rental
20 Yard Dumpster (3 TONS) 6,000LBS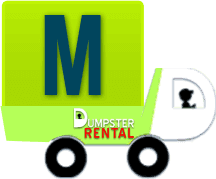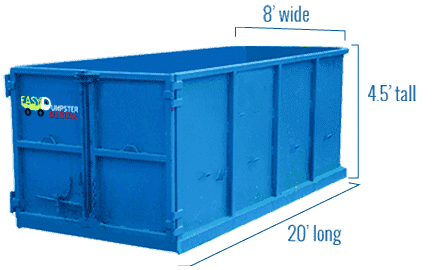 Easy Dumpster Rental
30 Yard Dumpster (4 TONS) 8,000LBS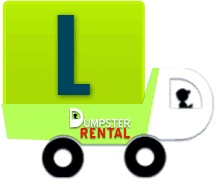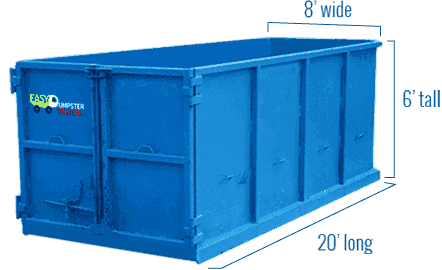 Easy Dumpster Rental
40 Yard Dumpster (5 TONS) 10,000LBS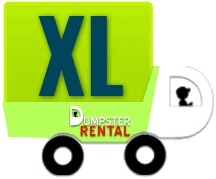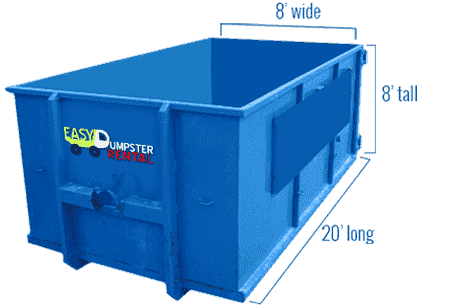 Easy Dumpster Rental
Let us help you free up space from the years of  hoarding  
Let's face it. We all have a hard time letting go of mementos and the many trips to the antique store. And some of some items are just plain junk we have laying around in our garages, attics, and backyard sheds. Granted some items hold tremendous sentimental value. But you know you can take it with to the life beyond. Or, you are planning on moving, perhaps downsizing and all the things you have accumulated over the years will be impossible to find space for in your new home or condo. Surveying all this is overwhelming with the thought of sorting it all out. What stays and what goes. But you know its time to make some decisions.
Now, unfortunately, Easy Dumpster Rental in Marietta can't help you with the decision process. But once you decided on what you plan to get rid of, this is where we can offer a helping hand. No matter what size bin you think you made need from a 10-yard dumpster to a 40- yarder, we can help make the transition to the landfill so much easier for you.
With one quick phone call, our trained experts can tell you exactly what size bin you need. Plus it's going to be almost stress-free. Imagine how many pickup trucks ( if you even own a truck) runs you are going to have to make back and forth to the landfill, or recycling center. Why worry about it. Placing your debris smartly in a dumpster is all you have to do. Will drop it off and pick it up at your convenience. Will look into any permitting you need, landfill fees, etc,… for you.
Easy Dumpster Rental wants to help ease the stress from your life. And there is know a simpler way to carry off "junk" than renting a dumpster. Stop delaying the inevitable and call us now. And by the way, call us now and save up to $75 on your rental. There you go we will help save you time, stress and money. Great combination.
Help rid Marietta of the pollution of hazardous waste
The majority of Americans have little or no understanding of what constitutes hazardous waste that may be lurking in your own household. And, without this knowledge, you could be unwittingly causing serious pollution problems in your city. Any products that are toxic, corrosive, flammable, or reactive will be considered hazardous waste under EPA guidelines. So the place to start is to begin reading the labels of any products you bring into your home and ensure you understand the directions. Then when finished using said product, the label should tell you how to properly dispose of this potential pollution causing products or agents.
Hazardous waste materials should never be thrown down the drain or poured into yards or driveways. These agents can easily leech into underwater water sources or into sewer drains that run off into our lakes, rivers, or streams.
Believe or not one of the biggest negative contributions that people do, is discard old or unused medicines down the kitchen sink or toilet. And that goes directly into our water sources causing harm and contamination. Be careful with the methods you use to discard these products. Most cities have places you can take your old medicines to safely dispose of.
There are few steps you can initiate to help you control where hazardous waste ends up. One of the most practical is to sign up for hazardous waste removal service. Secondly, try to cut down on the use of hazardous waste, and thirdly, as touched on above, don't put hazardous waste into drains, sewers or your driveways and front or backyards.
There are substitutes you can use in lieu of hazardous waste products. There are many products on the market that you can use as an alternative. A couple of products that immediately come to mind when you want to go Green are detergent and paper products. The grocery store aisles have a plethora of these items. Do some research or talk to your local recycling centers for alternative solutions.
Cell phones are another big headache. Millions of these phones are not properly disposed of each year. A cell phone will contain high levels of lead, copper, zinc and nickel. These toxins leach into the landfills and eventually into our underground aquifers. So before you just throw that old cell phone into the trash, consider other options. All of the major cell phone carriers today, encourage you to return your old phone free of charge and usually apply the value of the old phone to the purchase of a new phone. And if for some reason that is not an option for you, call your local officials, they will instruct you on how to properly get rid of your old phone.
There is no reason under the sun why we all working together can't help to reduce hazardous waste in our communities. There is so much information available out there and there can be no more excuses. The questions you have to ask yourself are, Do I want to live and leave a healthier community to my children and grandchildren? And do I want to be part of the solution? Not the source of the problem? Remember be aware if what you are bringing into your home and read the labels.
For your convenience here is a list of some of the more commonly found hazardous waste found in your home. The EPA has published a brochure of these materials, also.
Glues
Tile cleaners
Oven cleaners
Brake fluid
Kerosene
Houseplant insecticides
Facilities  available in Marietta to dispose of hazardous waste
Cobb County has a great website to aid you in the hunt for finding hazardous waste removal sites. This is a great place to start your journey. Below we have listed some facilities for residents of Marietta and Cobb County that you can call on for getting rid of hazardous materials.
Southern Environmental Services – 1059 Triad Court Suite 12, Marietta, Georgia, 30062 770-933-0005
Contamination Control Systems – 5150 Stilesboro Rd NW, Kennesaw, GA 30152, (678) 354-2656
Hazardous Waste Experts – 2693 Research Park Dr. Suite 201 Fitchburg, WI 53711 Phone: 888-681-8923
Atlanta Paint Disposal – Lithia Springs, GA 30122 404 333 8763 Telephone (This company serves Cobb County)
Advanced Disposal Transfer Station – 1897 County Services Parkway, Marietta, GA 30008.
Recycling Services in Marietta
The Cobb County website has a cache of information on recycling options in the county. Recycling is one of the easiest and most important contributions an individual or family can make in keeping your city beautiful. Recycling is basically taking items that usually are labeled recyclable and turning them into a local recyclable center. These products then can be repurposed from its raw state into a new product. For instance, taking old tires and turning them into asphalt. Take a plastic bag for example. Plastic is very difficult to breakdown, and it can take hundreds of years to completely disappear from the planet, and just by using a tote bag will help immensely in reducing this harmful waste. Recyclable items typically use a numbering system from 1-7. With 7 being the most difficult to recycle to 1, which is the easiest.
Recycling helps create jobs and cuts down on pollution. Over 60% of the trash that ends up into landfills can be recycled. Did you know almost all of the automobile could be recycled? Glass can be completely recycled into be put back to use in a responsible way. So, please do your part and get educated on the benefits of recycling and help our planet be a more livable place for future generations. Help keep Marietta a great place to live. A city that looks healthy will be a more livable space and will also have a positive impact on property values. Our rivers, lakes, and parks will become more attractive places to visit and enjoy. So do your part and recycle.
Below is a partial list of recyclables:
Paper
Plastic
Cell phones
Aluminum cans
Here are a few recyclable centers in Marietta
RockTenn Company Recycling Center
1775 County Services Parkway, Marietta, GA 30008235
The Goodwill Store
Peachtree StreetNorth Tower Suite 2300
Atlanta, GA 30303 Phone: 404-420-9900
The Salvation Army
202 Waterman Street
Marietta, GA 30060
Phone: 770.724.1640
The City of Marietta website spells out the rules of recycling and sanitation.
It's that easy!
Call Our Team Now
1-888-792-7833